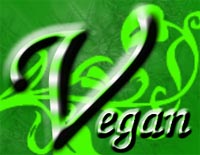 The difference between vegans and vegetarians is that strict vegans don't consume dairy products, pre-cooked processed foods, honey, gelatin or anything that isn't plant based.  I've been learning first hand from a young vegan woman how difficult it is for us carnivores to adapt to cooking for vegans.
My first attempt at feeding this vegan girl bombed like Hiroshima!  The poor thing would have starved if she hadn't brought some of her own food to the barbecue.   I was genuinely interested in learning how to prepare vegan meals so she vowed to help me.  (And maybe try to convert me as well. LoL)
With her guidance, and a strict, very detailed guideline of products and brand names she would and wouldn't eat I hit the grocery store.  I think I did a little happy dance in the aisle when I found gluten free, wheat free pancake mix.  My dance didn't last long though when I realized I would be paying $5 and some change for a very small bag of pancake mix.
We planned a get together in which the vegan woman's family would drive into town and stay the night at our house for a barbecue and fun.  My vegan menu went over well.  She was fed and she was happy.  I was happy too.  If you're interested here's my overnight menu and the links to my recipes.
Hord'ourves:
Baby carrots
Celery
Cucumber slices
Kettle Chips
Dinner
French Fries
Tofu Mushroom Burgers served on Alvarado Sprouted Whole Grain Buns
Dessert
Soy Butter Pecan Icecream
Organic Chocolate Chips
Slice Banannas
Next Morning Breakfast
Raspberries
Soy Yogurt
Organic orange juice
Talk About It
What People Are Saying Now