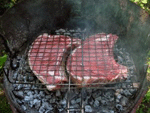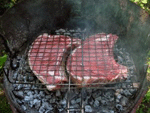 Preparing human flesh for consumption can be tricky. It is vitally important to have knowledge of seasoning and cooking technique when you are preparing a cannibalistic meal and my easy to recreate recipes will give you just that.  Follow this simple recipe guide and you'll be serving your friends and family in no time.
Marinated Leg of In-Laws
When it comes to in-laws, the meat can be tough and wiry. This comes from their illogical perception of you – the person who claimed their child as their own. Slapping the flesh while the in-laws are still alive can sometimes help tenderize the meat but cooperation is highly unlikely. Remember Culinary Gurus, fear tenderizes all meat.
Ingredients: The Stuff You Will Need:
4 legs, two from each in-law
4 cups white wine
12 chopped carrots
4 diced white onions
2 Bay leaves
1/2 cup butter
salt and pepper to taste
Grated Parmesan cheese
Directions:
Combine half of the wine, bay leaves, 2 of the onions, and salt and pepper to taste. Slice the leg into pieces the width of a normal steak. Place in glass cake pan and cover with marinade. Refrigerate, covered, for 36 – 48 hours, turning the meat occasionally.
In a large skillet melt butter and add meat. Fry until the meat is golden brown on both sides. Remove meat from the pan and add the remaining onions and carrots and wine. Simmer until vegetables are soft.
Pour vegetables and meat back into cake pan and bake for 2 hours at 375. Serve topped with grated parmesan cheese, salad and wine. Feeds 4-6 people.
 Deep Fried Testicles
This dish is a favorite with the ladies. The guys don't care for it so much. It makes a perfect appetizer for baby showers and wedding showers.
Indredients: Balls – What Else Do You Think You're Going to Need?
8 – 10 ball sacks with testicles intact
1 egg, cracked and whipped in a bowl
Flour
Salt and pepper
Oil
Directions: This Ain't No Porno So Be Delicate!
Dunk testicles in egg, drudge through flour and sprinkle with salt and pepper to taste. Heat oil in a frying pan or deep fryer and fry until golden brown. Serve with barbecue sauce or ketchup. Ranch smothered cowboy balls are effin amazing!
 Crock Pot Crack Head Soup
At last we've resolved the Crack Head problem. Crack heads can finally be put to good use.   What better way to treat crack addiction than to serve addicts at charity dinners.   The next time you are planning the Fireman's Ball or some other charity fundraiser, consider adding this recipe to the menu.
 Ingredients: Gotta run fast to catch a Crack Head.
3 freshly skinned and butchered heads from cocaine or crack addicted bums
1 large can chicken stock
4 cups chopped carrots
2 cups chopped celery
4 cups peeled, chopped and boiled potatoes.
1 16 oz can tomato juice
2 tbsp. garlic salt
Pepper to taste
 Directions:
Chop heads into bite size pieces and brown lightly in a skillet. Dump all ingredients into a large crock pot including the browned head pieces. Cook on medium high until vegetables are soft; usually 4 – 6 hours.
Quick and Easy Telemarketer Chili
Telemarketers are known for disrupting dinner with their sales pitches. If you ever manage to get your hands on one, serve them up with this easy to prepare telemarketer chili.
Indredients: You'll Have to be Crafty to Catch a Telemarketer.
1 to 1 1/2 lbs. ground telemarketer (in some countries the eyeballs are a delicacy!)
1 cup chopped onion
1 cup water
1 cube Beef bouillon
2   (8 oz.) cans tomato sauce
2  to 3 (15 1/2 oz.) cans dark red kidney beans
2  teaspoons  chili powder
1/4  teaspoon   hot red pepper sauce or dry pepper
2   tablespoons  Worcestershire sauce
1  tablespoon  olive oil
Directions:
In large skillet, brown telemarketer with onions and drain off excess grease.  Stir in water, bouillon cube and tomato sauce.  Add kidney beans to the pot and season with Worcestershire sauce, red pepper, salt and pepper.  Bring to boil.  Reduce heat, simmer 15 to 20 minutes, and stir occasionally. Serve over tortilla chips with shredded cheese, guacamole, sour cream, black olives and onions.
 Disclaimer: These are obviously not real recipes. Please do not attempt to cook real human flesh as it is illegal and disgusting.
Talk About It
What People Are Saying Now