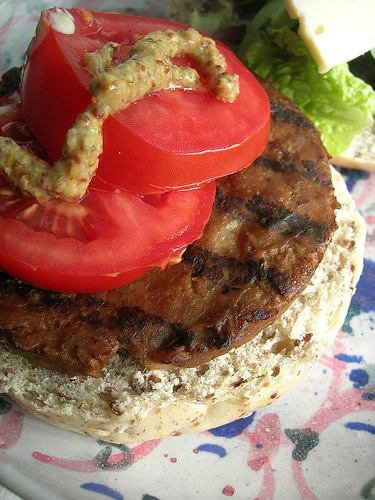 Summary: This burger was a huge experiment that paid off. The mushrooms and tofu hold together nicely and the flavor is rich and zesty. As someone who eats regular hamburgers, I thoroughly enjoyed this tofu mushroom burger.
Ingredients
1 pound firm tofu, drained and mashed
1/2 cup diced onion
2 Tbsp Soy Sauce
2 Tbsp Bob's Red Mill Brown Rice Flour
1/2 cup steel cut oats
2 cups chopped mushrooms (as finely as you wish)
1/2 tsp salt
1/4 cup Drew's Roasted Garlic and Peppercorn Dressing
Instructions
Mix Brown rice flour, steel cut oats and salt together in a small bowl.
Combine diced onion, mushrooms, soy sauce and garlic and peppercorn dressing together in a separate bowl.
Fold mashed tofu into onion mixture.
Add dry ingredients and mix well.
Shape into patties and fry in a skillet preheated with  extra virgin olive oil until brown and crispy.
Serve with lettuce, pickle, tomato, onion, Spectrum's canola mayonaise and mustard over Alvarado St. Bakery Sprouted Burger Buns.
Serve with Organic French fries and Brown rice pasta salad.
Cooking time (duration): 30
Diet type: Vegan
Number of servings (yield): 4
Meal type: dinner
Culinary tradition: USA (General)
Recipe by on.
Microformatting by hRecipe.
Talk About It
What People Are Saying Now