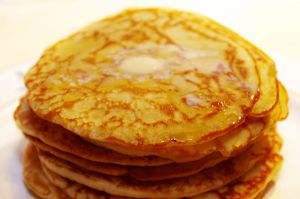 Summary: Making organic buckwheat pancakes may sound easy but I never would have imagined there's VEGAN buckwheat pancakes. These are as simple to make as regular old Bisquick pancakes.
Ingredients
2/3 cup Arrowhead Mills Buckwheat Pancake Mix Egg substitute (it comes in powder form)
2 tsp canola oil
3/4 cup soymilk
Optional – Sunspire Organic Chocolate Chips
Instructions
Mix all the ingredients together.
If you are using chocolate chips do not put them into the batter.
Spoon batter into a hot skillet.
Flip pancakes when they are golden brown.
After you flip your pancakes once, sprinkle with chocolate chips. This will help them from completely melting into the pancakes.
Note * These directions can be found on the package of Arrowhead Mills Buckwheat Pancake Mix.
Optional Topping – top with fresh raspberries, blueberries, organic applebutter or syrup.
Cooking time (duration): 5
Diet type: Vegan
Diet (other): Gluten free
Number of servings (yield): 2
Meal type: breakfast
Culinary tradition: USA (General)
Talk About It
What People Are Saying Now