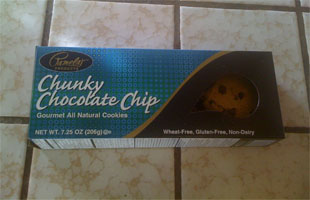 If you're craving a really good chocolate chip cookie but don't dare go near them for the gluten then let me introduce you to this little goody.  I found these cookies at our local organic grocery store and I won't lie, they are a tad bit on the expensive side.
But they are so worth the extra cash as long as you only eat one or two a day which is really hard.  These cookies have a great rich chocolaty flavor and hardly have any calories.  The nutritional information on the back of the box says one cookie has 120 calories with 7 grams of sugar.  The sugar is an evaporated cane sugar for those that can handle that.
Pamela's chocolate chip cookies are wheat free, gluten free and dairy free and did I mention they are yummy?
Talk About It
What People Are Saying Now