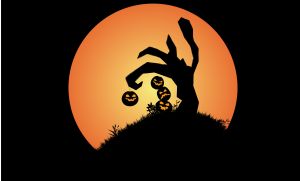 Welcome to the October 1, 2009 edition of suburban wife life blog carnival roundup.  I was focused on getting together a Halloween blog carnival of links but that didn't necessarily happen.  So even though there are only a few Halloween links, I thought the posts were so good I'd include them anyway.  Enjoy the roundup.
Silicon Valley Blogger presents Fun, Cheap Halloween Costumes To DIY, A Photo Gallery posted at The Digerati Life.
TSW presents Ways To Save on Seasonal Purchases: Time To Shop For Halloween! posted at The Smarter Wallet.
Madeleine Begun Kane presents Is It July 4th, Columbus Day, Or Halloween? I'm Confused! posted at Mad Kane's Humor Blog.
Foodies
These may not be Halloween posts but they are good enough to make me hungry.  Check out today's menu of recipes!
axel presents The Healthy Salad posted at axel g.
Thailand Breeze presents Noodles In Thailand (Part 1) posted at Tip.
Britnee presents GREAT SEMI-HOMEMADE DONUTS posted at Britnee Timberlake's Institute of Home Cooking Blog.  I can't wait to make these.  Thanks for the wonderful recipe Britnee.
Britnee presents Moist Meat Balls!!!!! posted at Britnee Timberlake's Institute of Home Cooking Blog.
Mom Stuff
Jessica Stern presents American Zombie Fashion Show, an Educational Event posted at Desperado Penguin, saying, "I'm a suburban working mom. I'm currently blogging about my reading challenge to read 50 books by 50 authors in one year."  Not only did I find her post entertaining but I'm beyond interested in her book challenge.
Lisa Taylor presents 50 Best Productivity Blogs for Students posted at Online Degree.
Autumn Beck presents Do you have your Woollybottoms Footies yet? posted at All About Cloth Diapers, saying, "You don't?! How could you not?! Surely the leaves are starting to fall where you are.  Temperatures below 100 degrees around here means wool season is fast approaching."
Miscellaneous
S. Krishna presents S. Krishna's Books: Mrs. Perfect – Jane Porter posted at S. Krishna's Books.
Sonja Stewart presents Sew Easy to Save posted at Parenting Squad.
Anne Simone presents Top 100 Health Experts on Twitter posted at LPN to RN Blog.
Rose King presents 100 Great Social Sites to Boost Your Career and Brand posted at JobProfiles.org – Job Descriptions and Online Schools to Start Your Career, saying, "However gifted, intelligent, hard-working, or creative you may be, success is seldom found without someone else's help. Fortunately, the art of networking can be learned, so get started today by perusing these great sites."
That concludes this edition. Submit your blog article to the next edition of
suburban wife life blog carnival roundup
using our
carnival submission form.
Past posts and future hosts can be found on our blog carnival index page.
Talk About It
What People Are Saying Now