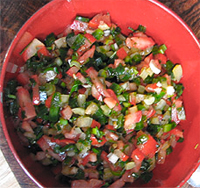 Recipe: Pico De Gallo and Pita Chips
Summary: Pico De Gallo is similar to Salsa except that it is much chunkier and made of a variety of fresh uncooked vegetables and sometimes includes fresh fruits.
Ingredients
2 tomatoes chopped
1/4 cup finely chopped white onions
1/4 cup finely chopped purple onions
1 handful of cilantro
1/2 red bell pepper finely chopped
1/2 green bell pepper finely chopped
1/2 yellow bell pepper finely chopped
1/2 orange bell pepper finely chopped
1/4 of a large cucumber finely chopped
2 jalapeños minced
1 /2 cup finely chopped pineapple
6 cloves of garlic, minced
1 tbsp salt
1 tsp pepper
1 tsp crushed red pepper flake
1 lime
Instructions
Mix all the fruit and vegetables together in a bowl.
Squeeze the lime into the fruit/vegetable mix.
Add salt, pepper, garlic and red pepper flakes.
Refrigerate for 1 hour.
Serve with multi-grain pita chips.
Quick Notes
For spicy pico de gallo keep the seeds with the minced jalapeños. For less heat do away with seeds of the jalapeños before chopping them.
Cooking time (duration): 30
Diet type: Vegetarian
Diet (other): Gluten free
Number of servings (yield): 12
Meal type: snack
Culinary tradition: Mexican
My rating: 5 stars:  ★★★★★ 1 review(s)
Recipe by on.
Microformatting by hRecipe.
Talk About It
What People Are Saying Now