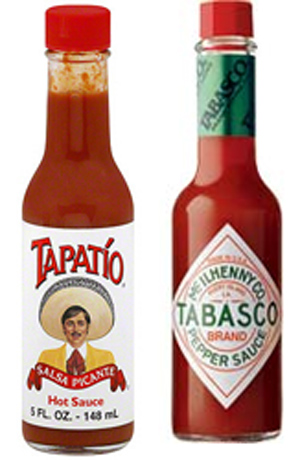 Which One is Your Favorite?
I'm feeling a little spicy today but the flavor of my spice is running pretty specific.   I crave a lighter heat that makes your mouth hot but doesn't warm your body.  I've got a chicken defrosting and I'm planning on making a chicken, hominy soup that has a modest amount of heat to it.  There's only one problem with my dinner plans, it's 93 degrees outside today and I'm sunburned from yesterday.  While most people would opt for something cool like watermelon
salsa
or a cold cut sammy I reach for jalapenos.
What's all that got to do with Tapatio or Tabasco Sauce?  Well, while I was coming up with my chicken, hominy soup recipe I vaguely remembered a trip to the midwest once where I ate in a diner that had an assortment of condiments in the middle of the table.  That in of itself  is not out of the ordinary.  Most diners have small trays of condiments on them.  What I do remember about it being strange to me was that in place of Tapatio sauce there was a jar of Tabasco sauce.  That in turn, reminded me that growing up I was more accustomed to seeing Tapatio than Tabasco Sauce.   When I was 10
we moved to California where I learned about authentic Mexican food and that Taco Bell was not it! lol  I also learned the difference between the flavors of Tapatio sauce and Tabasco sauce.
As you can see, tonight's chicken & hominy soup has stirred the pot.  I'm in a pickle, as they say, I have no idea if Tapatio sauce is second nature to me only because I have spent the majority of the years of my life in a place where it is as common in the white man's refrigerator as ketchup or if I had moved to a different part of the world if I would even eat hot sauce of any kind.
So, help me put this issue to rest.  Vote for which one of these hot sauces you would be most likely to have in your fridge if I looked right now.  Do you have Tapatio or Tabasco sauce?  Which will it be?
Talk About It
What People Are Saying Now