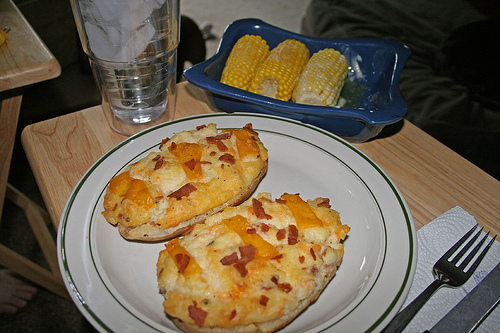 Summary: These twice baked potatoes make a great party appetizer and are vegan and vegetarian friendly.
Ingredients
6 Potatoes
1/2 cup butter
1/2 cup
milk
Salt
Baco Bits
Shredded Cheddar Cheese
Vegan and Vegetarians may substitute Soy Milk for milk and Vege Shreds for Cheddar Cheese.
Instructions
Bake potatoes in a 400 degree oven for 45 minutes or until tender.
Split potatoes down the center lengthwise.
Use a spoon and scoop the meat out of the potato, put scoops into a mixing bowl, so that you are left with a potato shell.
Add butter, milk and salt to the potato you scooped out.
Use a handmixer to beat the potatoes into mashed potatoes.
Spoon mashed potatoes back into potato shell.
Top with shredded cheddar cheese and Baco Bits.
Bake in 400 degree oven until cheese is melted.
Cooking time (duration): 1
Number of servings (yield): 4
Meal type: hors d'oerves
Culinary tradition: USA (General)
Recipe by on.
Microformatting by hRecipe.
Talk About It
What People Are Saying Now