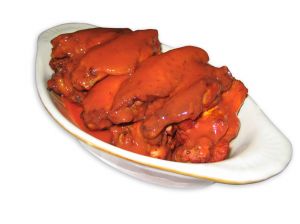 Summary: These are hot, juicy and just plain amazing chicken wings
Ingredients
1 teaspoon salt
2 pounds chicken wings
2 tablespoons butter
1 garlic clove finely minced
2 tablespoons Sriracha
1 Tablespoon Crushed Red Pepper Flakes
1 Cup Barbecue Sauce
Instructions
Fry wings in hot oil until they are browned and crispy. (usually about 10 or 15 minutes)
Melt butter in a saucepan
Mix melted butter, barbecue sauce, minced garlic, crushed pepper flakes, salt and Sriracha. Whisk well to combine.
Pour into a large zip lock baggie.
Toss chicken wings in the sauce in the bag.
Serve with Blue Cheese or Ranch Dressing.
Number of servings (yield): 6
Meal type: snack
Talk About It
What People Are Saying Now