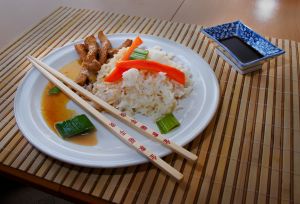 Funny Story about my rice – when I was a kid I hated the stuff.  There wasn't enough money in the world for me to eat rice.  To my youthful mind it looked like maggots and there was no way in hell I was putting that in my mouth.
I was in my early twenties when I first sampled this fine cuisine and lo and behold I loved it.  Ok well I loved it because it had bacon in it and if there's one thing I DO love it's bacon.
Eventually after much experimentation I came up with a rice concotion that I enjoy and my family enjoys.  In fact my family loves this recipe so much that I can't keep it as leftovers in my fridge.
Recipe: Bacon and Bell Pepper Rice
Summary: Bacon, peppers and rice.
Ingredients
1 pound Bacon
4 cups Minute Rice
1 Yellow, 1 green & 1 red bell pepper (look in the produce department somewhere near the bagged salad for already chopped veggies)
Optional – chopped white onion, diced red dragon thai peppers
Instructions
Fry bacon in a large skillet or wok
Place bacon on plate and set aside for later.
Bring 4 cups of water to boil
Dump 4 cups of minute rice into water and turn off burner and cover with lid
Fluff with a fork after 10 minutes. Rice is done in 20 minutes.
When the bacon is done, pour out half the grease. Return skillet to stove and dump bell peppers, onion and peppers into what's left of the bacon grease.
Fry bell peppers until they just start to soften.
Add cooked minute rice to the bell peppers in the grease.
Break up bacon into bite size pieces and toss into the rice.
Mix it all up and eat. Yummy!

Note** for 4 cups of rice I like to use 2 packages of bacon but that's expensive.
Cooking time (duration): 30
Number of servings (yield): 8
Meal type: dinner
Recipe by on.
Microformatting by hRecipe.
Talk About It
What People Are Saying Now