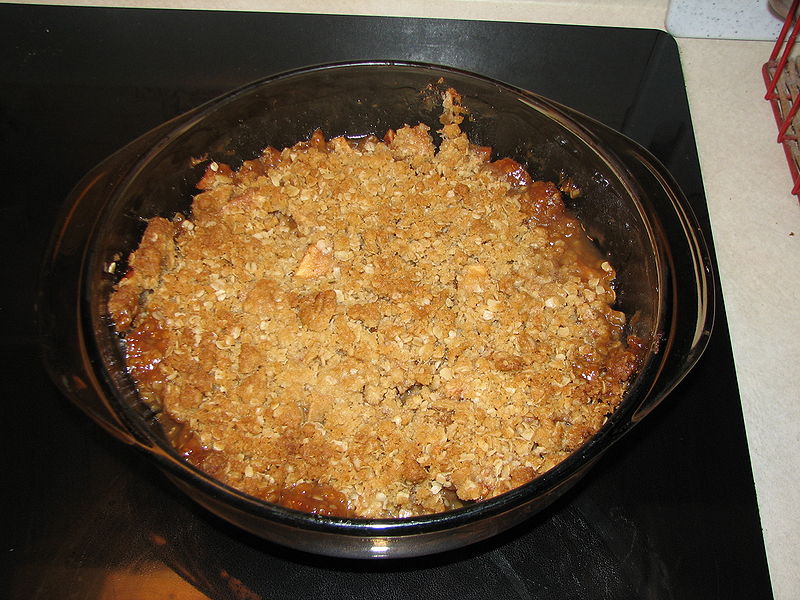 Summary: Reds Hots make this dish spicy, sweet and divine!
Ingredients
6 red apples
1/2 cup packed brown sugar
1/3 cup cinnamon red hot candies
1/2 teaspoon ground cinnamon

For Crumb Topping

2/3 cup Original Bisquick mix
2/3 cup packed brown sugar
1 teaspoon ground cinnamon
4 tablespoons butter (firm)
Instructions
Preheat oven to 350 degreesTo Prepare Apples
Lightly butter an 8×8 inch square pan.
Peel, slice and core the apples,
In a small bowl, mix together brown sugar, cinnamon red hot candies and cinnamon.
Fold sliced apples into mixture
Arrange in the baking dish.

To Prepare Crumb Topping

Mix Bisquick, brown sugar, cinnamon and butter in small bowl until crumbly.
Use a knife and fork to cut the mixture into crumbs.
Arrange apple mixture in baking dish.
Cover the top of the apples with crumb mixture.
Bake uncovered in the preheated oven 30 to 35 minutes, or until apples are tender.
Quick Notes
Top with Rediwhip, cool whip or vanilla ice cream.
Variations
To make this dish appropriate for vegans and vegetarians omit the crumb topping or substitute with pre-packaged vegan coffee cake mix.
Cooking time (duration): 60
Number of servings (yield): 8
Meal type: dessert
Culinary tradition: USA (General)
Recipe by on.
Microformatting by hRecipe.
Talk About It
What People Are Saying Now