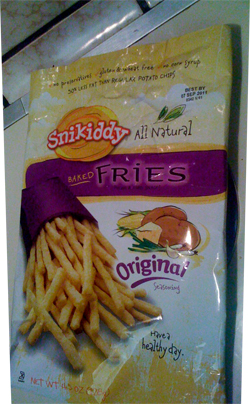 These are my new favorite snacks of the day!  They are so light and tasty I can't even tell you.  Well, I can really, here goes.
Snikiddy fries are freakin' awesome!  They are incredibly buttery tasting.  I didn't expect to find that at all. I thought they'd taste like a plain potato chip at the very least.  Oh I was so wrong.  These buttery taters melt in your mouth.
The biggest surprise about Snikiddy fries is that they have one hell of a crunch factor.  I'm talking jaw snapping, satisfying crunch.  It's potatoe power baby!  Just a half a second before they can melt in your mouth they're all finger-licking crunch magic.
Even their nutritional information is good.
Although they can't put gluten free on the label because their factory uses wheat and soy in other products, they are wheat free, vegetarian, nut free and cholesterol free.  Snikiddy Fries have only 130 calories per serving and the serving size is a 1/4th of the bag.  And – drumroll please – there's only 1g of sugar per serving.  Can't beat that with a stick!
Some cool things about Snikiddy
They have a website.  Doesn't everyone?  www.snikiddy.com and they've got a facebook page http://www.facebook.com/Snikiddy?sk=wall where you can find some good coupons.
If you're a parent of a kid who's going to be having an end of the year party at school, Snikiddy is co-hosting a party giveaway with Honest Tea, Honest Kids Products.
My favorite ways to eat Snikiddy Fries
I like Snikiddy fries the ordinary way, straight out of the bag, sitting on the plate next to a big, fat, juicy, bacon cheeseburger.
I also make a dip for my Snikiddy fries by whipping cream cheese with chives and garlic.
Bbq sauce with Snikiddy fries rocks my boat!
I like to make a bologna sandwich with Udi's gluten free multigrain bread, miracle whip, bologna and snikiddy fries.  Try it before you start making gagging noises at me.
Anywho, I love these things.   So if you're looking for a healthy snack that satisfies, serves two purposes – snack and dinner – and is just plain addicting look for Snikiddy Fries in the grocery store.
Talk About It
What People Are Saying Now