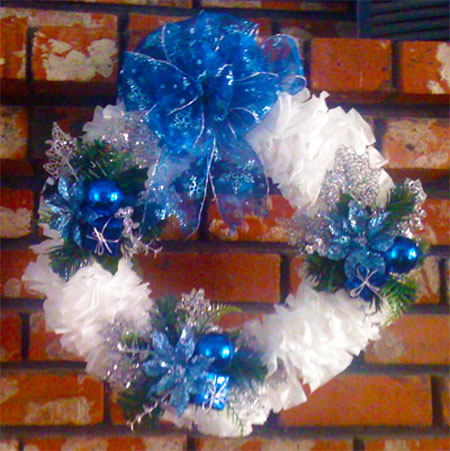 Trash bag wreaths have been around for ages and ages.  They are made in the same way that a rag wreath is made.  Simply make some strips and tie them around a circular form.  Decorate, fluff and viola!  You have a wreath.
Over the summer I developed a love for trash bags when I realized that they have the potential to be turned into something beautiful.  If you haven't seen it already then let me point you to the trash bag dress I made and the trash bag Chester Cheetah purses I've made.
Back to the topic of trash bags…Now that I've made one of these wreaths I decided I'm going to give them away as gifts.  It only takes a few hours to make and the supplies are so cheap it would be stupid to pass up the opportunity.  For my youngest daughter I'm going to make a purple trash bag wreath to match her purple flocked christmas tree. For my oldest daughter I'm going to make a black and red wreath to match her little bitty black tree and for my other daughter I"m going to go red and white and do a candy cane theme wreath to match her personality.
While I"m on the subject of trash bags have you seen these amazing decorative trash bags by Designer Liners??  I just bought a box of them and no I will not actually be using them for trash but rather for crafting.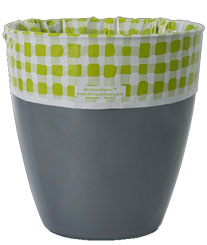 As for my trash bag wreath the instructions are pretty simple.
Supplies:
1 wire coat hanger
4-5 trash bags
scissors
Instructions:
1.   Bend and manipulate the wire coat hanger until you have something that resembles a circle. It doesn't have to be perfect but it should look round-ish.  Or if you want, you can make it into a heart shape.  For that matter you can make it whatever shape you want.
2.  This is the tricky part.  Unfold the trash bag but don't open it.  Fold it in half so that the bottom edge is lined up with the top edge.  Now fold it in half again only this time lengthwise so the sides are together.
3.  Now fold the trash bag in half again from the bottom up.
4.  Make one last fold lengthwise.  Your trash bag should now be in a small square of around 8 inches on all sides.
5.  Use scissors (or a rotary blade which is awesome for plastic crafting) to cut off the edges all the way around.  You should now have a square of plastic that's about 6X6X6X6
6.  Using your scissors cut the square of plastic into 2 inch strips.
7.  Once all your trash bags are cut into strips gather all your supplies and plop down in front of the television.
8.  Begin tying the strips onto the wire coat hanger form.  Be sure to open both ends of the plastic and situate the pieces the way you like so that they are nice and fluffy.  I'm a tad bit meticulous so I literally turned every piece of my plastic in a different direction and I made sure all the ends were opened fully but if you aren't as meticulous you could just tie them and moosh them together I suppose.  The more plastic strips you use the fluffier your wreath will be.
8.  Bend the neck part of the wire hanger into a nice firm loop.
9.  Decorate as you like.  I used holiday picks from Michael's for the sides and then I made a bow to hide my loop.
Happy crafting!
Talk About It
What People Are Saying Now