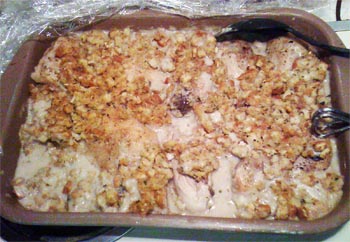 If there's one thing I love it's one pan meals.  Chicken and stuffing can easily and cheaply be made in one pan.  Here's my family's favorite chicken and stuffing recipe.
Recipe: chicken & stuffing
Summary: Hard economic times led me to this dish years ago when my children were small and money was tight. Not only is one pan chicken & stuffing easy to make, it's cost efficient and leaves little to clean up.
Ingredients
8 chicken drumsticks
1 tblspExtra virgin olive oil
lemon pepper
garlic salt
salt
pepper
1 8oz can of cream of mushroom soup
1 box of stuffing mix
4 medium sized potatoes
Instructions
Wash and cut in half 4 potatoes
Bake potato halves in microwave for 8-9 minutes
Heat 1 tablespoon extra virgin olive oil in skillet
Add a couple shakes of lemon pepper and garlic salt to skillet
brown both sides of chicken
In a bowl mix 1 1/2 cups of hot water, 4 tablespoons butter or margrine and stuffing mix.
place potato halves in baking pan
Place chicken on top of potato halves
Spread stuffing mix over the top of chicken drumsticks and potatoes
wisk cream of mushroom soup and 1 cup hot water together in a bowl
Pour soup over the top of the stuffing, chicken and potato halves
Bake in 400 degree oven until chicken is done about 45 minutes give or take depending on your oven
Prep time (duration): 20
Baking time (duration): 45
Number of servings (yield): 4
Meal type: dinner
Culinary tradition: USA (General)
Recipe by on.
Microformatting by hRecipe.
Talk About It
What People Are Saying Now