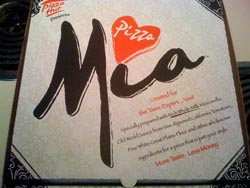 After spending the day sewing I decided tonight would be a Pizza Hut night.  Their $5 Pizza Mia deal is right up my alley.  Maybe tonight wasn't a good night to order pizza though because  ordering my pizza over the phone was excruciating and a tad bit frightening.
Frightening, you ask?  Yes, frightening and here's why, in a nutshell.  If the girl who took my order is considered an "average" teenager then the world is doomed!  Placing my Pizza Hut delivery order went like this:
Pizza Hut Employee – Thank you for calling Pizza Hut, will that be pick-up or delivery?
Me – Delivery
Her – Your phone number please.
Me – ###-….
Her – silence….
Me – Hello?
Her – Yes. Ok that was 7?
Me – 726-####
Her – silence….
Me – 726 – did you get that?
Her – Yea, 7?
Me – (sigh) 726
Her – 726?
Me – 726-####
Her – 726?
Me – 7
(pause)
Me-2
(pause)
Me-6
(Pause)
Me- Are you ready?
Her – Yes. 726.
Me – next number
Her – pause and then ok?
Me – next number and repeat ritual until I've given her the whole phone number.
Then she says –  pay attention, this is where it gets hilarious and frightening  – "What is your area code?"
I am not lying to you.  This girl asks me for the area code.  As if I were going to request delivery to another area code over an hour away where there are twice as many Pizza Hut restaurants.
As if Pizza Hut would send a delivery driver out on a delivery over an hour away, one way.
The girl is daft I tell ya!
If only the idiocy and terror this girl was frustrating me with had ended there.  But it didn't.  It was down right painful trying to get her to take my credit card number over the phone.
My husband said I should have asked for the manager to take my credit card numbers but I"m not worried about her stealing my identity.  She's too stupid to know what to do with it.
Sad really.  And scary.
Talk About It
What People Are Saying Now