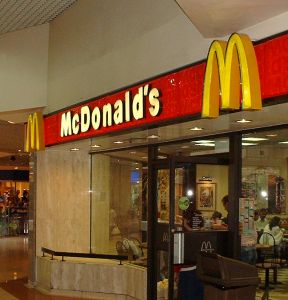 "I'd like a cheeseburger and fries."
"Ok that'll be 4.99"
"Oh, wait, I also need a wedding package for  100 people.  Cake included."
"Ok, your total comes to $1,280.  Please pull up to the first window."
LMAO!  Can you imagine?  I dunno, I just can't get past the cheesiness of it but I guess there's a wedding for everyone.  Even Ronald McDonald.
In January McDonald's started offering wedding packages in Hong Kong.  For $1,282 you can get invitations with golden arches on them, wedding gifts, decorations featuring Ronald and Hamburgerlar and a cake made out of stacked apple pies.  Toasts are made with sundaes and shakes and enough food to feed your guests.  For a little extra you can even rent a gown.
I get wanting your wedding to take place in a McDonald's restaraunt, (maybe that's where you met and fell in love) but I just don't get wanting all the Mickey D's accouterments.  But maybe that's just me.    The NY Times reported on the situation and they found a couple who purchased a McDonald's wedding package. Go fig!
Talk About It
What People Are Saying Now