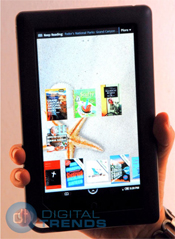 I saved up all my Barnes and Nobles gifts cards from Christmas and bought myself a Nook color.   I love it.  I didn't realize that it has the capabilities of a regular Droid tablet.  I bought it for the book reader but then I became addicted to its other features.
On payday I"m gonna get me a memory card and root it so I can get all the other apps.  I'm super excited.  The only thing I'm not happy with is not having any friends to borrow books from. Otherwise I love the free friday download, the digital coupons and the web capabilities.
If you have a Nook and want to be friends let me know. I'll share my books if you share yours.  I tend to download mostly vampire novels like the Anita Blake series. Kim Harrison and Laurell K. Hamilton are two of my favorite authors after Stephen King of course.   Right now I"m reading Pale Demon by Kim Harrison.
Talk About It
What People Are Saying Now