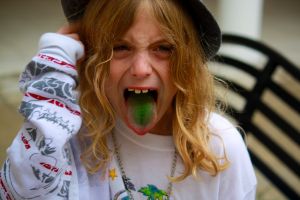 We all know the importance of giving our kids a good healthy lunch to fuel them through the afternoon. Sandwiches are easy and fast but there are other alternatives to peanut butter and jelly, ham, bologna, tuna….blah. Would you eat that for lunch, every single day? I wouldn't so I can't blame my kids for not wanting to either. When kids get sick of eating sandwiches for lunch every day try one of my easy sandwich alternatives.
Monday Menu:
Ritz crackers
cheddar cheese cubes
salami
Pineapple cubes
grapes
You can't get any healthier than that. It's sweet. It's crunchy. It's spicy and it's easy to pack. Best of all it's all finger food which kids love.  Be sure to pack each item in seperate ziplock baggies or containers with divided compartments.
Tuesday Menu
Taco  Salad
This dish is filling enough that you shouldn't have to add any other foods unless you want to throw in a plum or apple or something.
Fry up half a pound of ground beef. Add half a package of Lawrey's taco seasoning or salsa to meat. Add a bit of Russian or French dressing for a touch of sweetness. Pack a couple of tablespoons of taco meat in a small bowl. Pack some shredded cheese and lettuce in separate ziplock baggies. Throw in a bag of dorito chips and you've got taco salad.  Be sure to let your child know they are to mix the ingrediants together.
Wednesday Menu
Chicken Salad
Garlic Crouton Breads
Celery Stick and Baby Carrots
Ranch Dressing
Either buy some premade chicken salad at your local deli or mix it up yourself. Put some garlic dipping crouton breads in a zip lock baggie. Garlic dipping breads a great alternative to bread or crackers. Toss a few celery sticks and baby carrots in a baggie and add a small bowl of ranch dressing for dipping.
Thursday Menu
Chili topped baked potato
Trail Mix
Graham crackers and nutella
This is incredibly simple.  Make a baked potato, slice it open like you normally would and wrap in 2 layers of aluminum foil so the potato stays warm.    Heat up a can of Hormel chili and pack in a thermos.  Let your child know the chili is to go on top of the potato.
For trail mix simply throw some cheezits, pretzels, nuts, M&M candies and dried fruit into a zip lock baggie.
Friday Menu
Parmesan bow tie pasta
Tomato soup in a thermos
Goldfish crackers
You can find my recipe for parmesan bow tie pasta by clicking here.  It's a simple pasta recipe that only takes minutes to prepare and is good warm or cold.
I have many more lunchtime sandwich alternatives so be on the lookout for future recipes.
Talk About It
What People Are Saying Now