I have to tell you about Big Universe. Big Universe® is an award-winning web community devoted to beautiful children's picture books, online. Teachers, students, parents, authors, and others can share and learn while they enjoy this educational and entertaining website.
If you have small children up to the age of 11 or 12 then please, please take advantage of this offer.  Big Universe has given me permission to to give away a promotion code for a 30 day free subscription to their service.
Before I give you the promotion code let me tell you about my experience with Big Universe.   The promotion code will be at the bottom of this post but please read whole post.  🙂
The Big Universe website is a library of children's books written by both published author's and amateur authors.  A great many of the amateur authors are members of Big Universe and are children.
Big Universe provides child authors (and amateur adult authors of childrens books) to create, publish and share their own childrens books.  The creation process is amazing.   The creation tool is a fully functional  design studio that includes clip art for those who do not have their own illustrations.  Those that do can upload them.
I found myself spending quite a bit of time on the Big Universe website even though I don't have any kids that young anymore.  The interface is just so cute and fun for kids that it draws you in.
One of the things I really liked about the Big Universe website is simplicity of the reader itself.  It really is a one click operation with navigation being basic enough that kids should be able to get around easily in no time.  Plus there's a cool puzzle at the bottom of the reader.  Having an activity included was a nice surprise.
For homeschoolers Big Universe is a must have!  Be sure to check out the available resources for educators.
Check out these screenshots of books I read at Big Universe.
This is the screenshot of a book cover.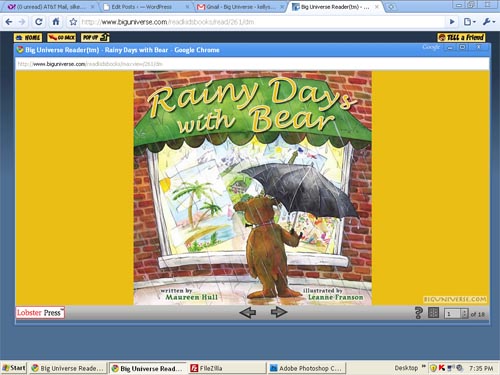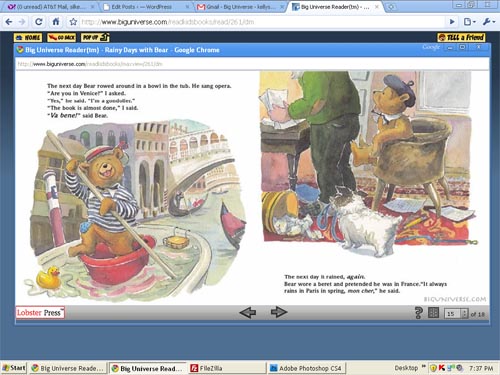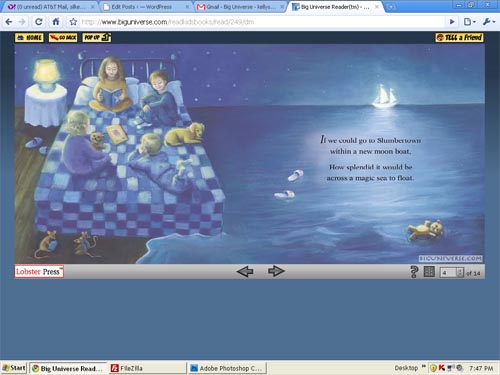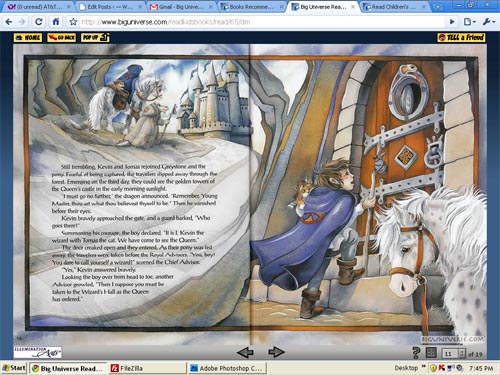 Promotion Code
1. Go to https://www.biguniverse.com to sign up for your free account
2. After filling out a short form, you will be sent a confirmation email to activate your account
3. After activation sign in
4. When in your account, use promotion code: BUMOM09
This offer expires October 31, 2009
Talk About It
What People Are Saying Now