Recipe: Gluten Free Garlic and Rosemary Bagel Crisps
Summary: I have yet to find any real good gluten free bagel crisps so I decided to make my own. Thanks to Udi's plain bagels these babies are possible. They are delicious chopped into bite size pieces and thrown into Gluten Free snack mix or topped with cream cheese. No matter how you eat them, you're sure to love them!
Ingredients
1/2 Cup extra virgin olive oil
1 1/2 teaspoon dried Rosemary
6 cloves of garlic Grated Parmesan cheese
1/4 Tsp Sea Salt
Instructions
In a food processor or blender do a quick chop of the garlic cloves, sea salt and Rosemary.
Add olive oil and purree.
Slice Udi's gluten free bagel into very thin slices with a serrated knife. 1 bagel should yield 10 slices.
Spread slices on a baking sheet.
Brush both sides of bagel slices with the garlic rosemary mixture.
Sprinkle tops with parmesan cheese.
Bake in a 350 degree oven for 18 minutes.
Quick Notes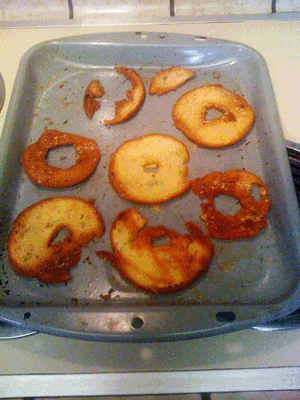 Serve warm, hot or room temperature. They are fantastic dipped in homemade chicken soup. Don't worry about flipping them while they are in the oven. Just let them be to do their thing.
Variations
Mix some minced pimento, pepper, celery salt, minced carrots and parsley with cream cheese for a nice veggie spread. Sprinkle a little shredded sharp cheddar on top for added cheesiness.
Cooking time (duration): 20
Diet type: Gluten Free
Diet (other): Gluten free
Dietary restriction: Gluten Free, Sugar Free
Number of servings (yield): 5
Meal type: snack
Culinary tradition: USA (General)
My rating: 5 stars:  ★★★★★ 1 review(s)
Talk About It
What People Are Saying Now