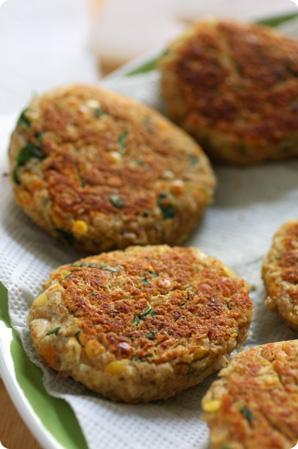 My corn fritters are serious business.  They are full of flavor and pack a punch with lots of crunch on the outside and moist, fluffy cornbread on the inside.  They're a little bit spicy with a sweetness that is so faint it almost reminds you of sweet cornbread but not quite…just a hint.
The first time I made them they were eaten right out of the pan.  Literally.  I'd take one out and place it on the cooling rack and it would get snatched up.  I yelled at everyone to leave me a few to take pictures of for my blog but all I got back was a lot of crunching and mumbling.  I consider myself lucky that I walked away from the stove having eaten at least one fritter and no one tried to gnaw my fingers off.
These golden brown beauties go wonderfully with tri-tip, chicken or pork chops.  You can serve them with chickpeas and a salad or as a snack topped with sour cream.  Either way, you're sure to love the gluten-free little buggers!
Recipe: Jalepeno Cheddar Corn Fritter
Summary: Spicy, crunchy, cheesy, flavorful, jalepeno cheddar corn fritter recipe.
Ingredients
2 cups white self-rising corn meal
2 minced jalepeno peppers
1 cup sharp cheddar cheese
1/4 cup finely chopped green onions
1/4 cup minced cilantro
1 beaten egg
milk to make batter with
cooking oil or lard
Instructions
mix together cornmeal, jalapenos, cheese, green onions and cilantro.
add beaten egg.
pour in milk until mixture turns into something that resembles an extra thick batter. Too thick to pour like pancakes but too thin to be considered a dough.
Let sit in refridgerator for one hour.
Heat about half an inch of oil in the bottom of a skillet.
Spoon dollops of batter/slash/dough into skillet and fry until golden brown on both sides.
Cool on cooling rack to keep fritters crunchy.
Cooking time (duration): 10
Diet (other): Gluten free
Number of servings (yield): 6
Meal type: dinner
Culinary tradition: USA (General)
My rating: 5 stars:  ★★★★★ 1 review(s)
Recipe by on.
Microformatting by hRecipe.
Talk About It
What People Are Saying Now