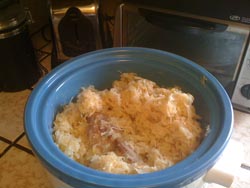 Dinner is on! I've got my crockpot going and there's a fantastic pork roast smothered by sauerkraut bubbling inside.  If you're looking for an easy dinner recipe that you don't have to stand over and watch cook then give this a try.  Here's my pork roast and sauerkraut recipe.
Recipe: Pork Roast and Sauerkraut
Summary: Slow cooking at its best
Ingredients
Extra Virgin Olive Oil
Salt and Pepper
1/2 cup water
Pork roast
1 large jar Sauerkraut
Instructions
Preheat a heavy skillet with about a tablespoon of extra virgin olive oil
Season roast with salt and pepper
Brown both sides of roast in skillet.
Transfer pork roast to crockpot
Cover roast with at least 1 large jar of sauerkraut
Add 1/2 cup water
Season with more salt and pepper
Cook on low for 7-8 hours or 4-5 hours on high.
Cooking time (duration): 10
Number of servings (yield): 4
Meal type: dinner
Culinary tradition: German
Recipe by on.
Microformatting by hRecipe.
Talk About It
What People Are Saying Now