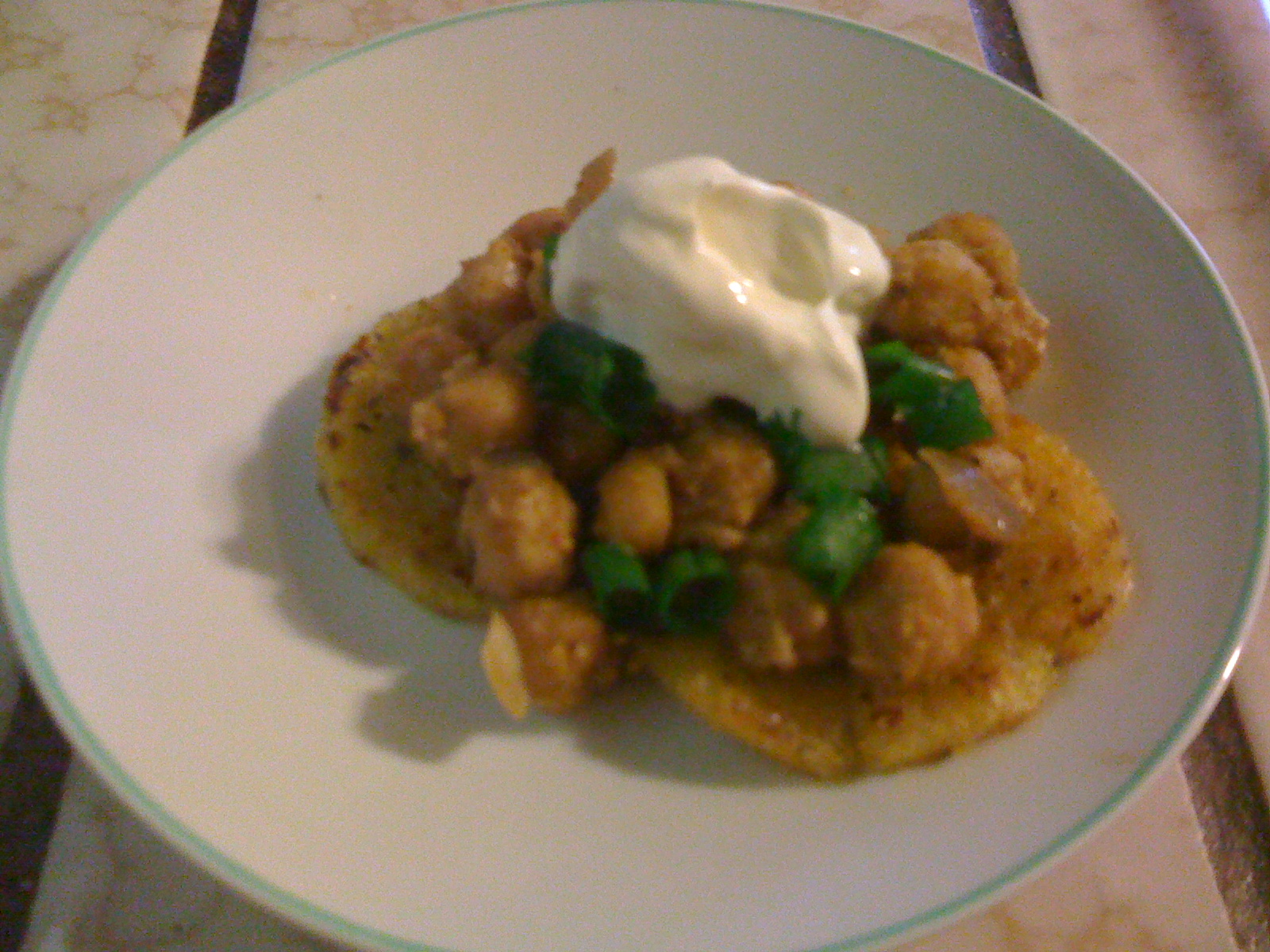 Summary: Creamy Chickpeas served over fried jalapeño  cilantro Polenta, topped with sour cream and green onions.
Ingredients
1 Can of Shelled Chickpeas, strained and rinsed
1 Tsp Garlic Salt
1 Tsp Cumin
1/2 Cup Grated Parmesan
1/2 Cup Milk
3 Tbsp Butter
3 Cups Chicken or Vegetable Stock
2 Tbsp Extra virgin olive oil
1 Package precooked San Gennero Jalapeño Cilantro Polenta
Chopped Green Onion
Sour Cream
Instructions
Add Chickpeas and Chicken or Vegetable Stock to a saucepan and cook on medium heat until chickpeas are hot and have absorbed some of the liquid.
Pour off excess stock.
Heat extra virgin olive oil in a sautee pan.
Add Chickpeas and fry for about a minute.
Stir in butter and milk
Add garlic salt and parmesan.
Simmer until mixture is smooth and creamy.
Slice polenta roll into thin discs.
Fry in butter until browned and crispy on both sides. Roughly 3-4 minutes per side.
Serve chickpeas over polenta and top with sour cream and chopped green onions.
Quick Notes
Substitute chicken broth with vegetable broth and milk with soy milk for vegan alternative.
Cooking time (duration): 20
Number of servings (yield): 4
Meal type: lunch
Recipe by on.
Microformatting by hRecipe.
Talk About It
What People Are Saying Now