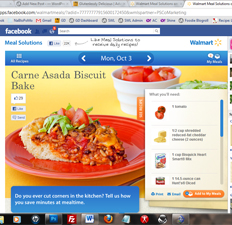 Have you seen this?  If you haven't then you should.  I saw an advertisement for WalMart's Facebook app on my own profile and had to click on it.  It is actually a very handy app to have.  Busy moms and dad's can get recipes that are super fast to make and chances are most people have most of the ingredients in their kitchen already.
I won't say that the meals are the healthiest of choices but I will say they are far better than the drive-thru, obviously if you use fresher ingredients the meal will be healthier.   It wouldn't be hard to switch out the premade, frozen, processed ingredients for freshly made ingredients.  If however you don't have time to boil up a pot of pinto beans to make your own baked beans for WalMart's Baked Bean Sloppy Joes then canned baked beans will do just fine.
Even though I have gone gluten free and for the most part sugar free I'm pretty confident that I can convert most of those recipes over.  And I love that the meal planner includes vegetarian meal solutions and that the recipes are kid friendly and created with families in mind.  Overall I'd say I like WalMart's Facebook app quite a bit.  It gets and A from me.
Click Here to Check Out the Facebook App.
Talk About It
What People Are Saying Now