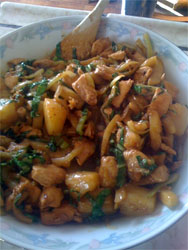 Recipe: Sweet and Spicy Chicken and Bok Choy Stir Fry
Summary: A sweet and spicy gluten free chicken stir fry.
Ingredients
Spicy Chicken Marinade
•6 Tbsp gluten free soy sauce
•4 Tbsp rice wine vinegar
• 4 tsp honey
• 2 Tbsp sesame oil
• 1 Tbsp ground red pepper flakes
• 2 Tbsp corn starch
• 1 lb skinless, boneless, chicken breast
• Canola oil spray

Vegetable Mixture

• 6-7 baby bok choy stalks julienned, leaves ribboned
• 4 cloves of garlic, chopped
• 1 Thai Red Dragon pepper chopped
• 1 Tbsp fresh grated ginger
• 2 cups pineapple cubes
• 3 small green apples, julienned
Instructions
Whisk together 6 Tbsp soy sauce, 4 Tbsp rice wine vinegar, 4 tsp honey, 2 Tbsp sesame oil, 2 Tbsp corn starch, 1 Tbsp red pepper flakes in a medium-sized bowl to make the spicy chicken marinade. Pour half of the marinade into another bowl and set aside.
Cut chicken into 1-inch cubes.
Spread chicken into a glass pan in a single layer.
Pour one half of the marinade over the chicken making sure to cover all the pieces. Let the chicken marinate for 10 minutes in the fridge.
Chop the garlic, rinse and julienne the bok choy, and dice the pineapple.
Peel and julienne the green apples. Float the apple strips in a bowl of ice water with a touch of lemon to keep them from turning brown.
Line a baking sheet with tin foil.
Spray the tin foil with oil.
Spread cubed chicken on the baking sheet and bake in the oven until chicken is no longer pink.
Preheat a skillet or wok for around 2 minutes without any oil in it.
After about 2 minutes coat the inside with about 1 Tbsp sesame oil and continue to heat for another minute.
Toss in the garlic, ginger, red pepper flakes, and some soy sauce.
Stir fry this mix for 2 to 3 minutes, then add the bok choy stalks, pineapple, red dragon peppers and apples, stir frying for another 3 more minutes.
Add the chicken and 2nd half of the marinade, stirring until it starts to glaze.
Add the ribboned bok choy leaves and fry until wilted.
Cooking time (duration): 30
Diet (other): Gluten free
Number of servings (yield): 4
Meal type: lunch
Culinary tradition: Chinese
My rating: 4 stars:  ★★★★☆ 1 review(s)
Recipe by on.
Microformatting by hRecipe.
Talk About It
What People Are Saying Now