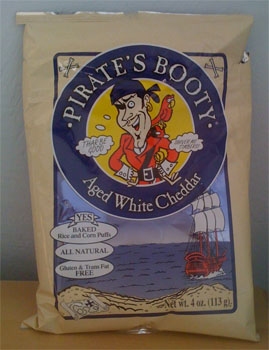 Today's snack is not only delicious but it's gluten free AND sugar free at the same time.  If you haven't tried Pirate's Booty Corn Puffs then you are missing out on a great snack that won't compromise your allergy free diet.
Pirate's Booty Corn Puffs come in a variety of flavors.  My personal favorite is the Aged White Cheddar but you can also get Veggie, New York Pizza, Sea Salt & Vinegar, Barbecue and Sour Cream and Onion.
Do not mistake Pirate's Booty for just an off brand of Cheetos.  These are made from rice and corn.  They are all natural, have no trans fat and are baked.
You can find Pirate's Booty Corn Puffs at Wal-Greens, Costco, Whole Foods, Trader Joes and online at the Pirate Brands website found here: http://store.piratebrands.com/
Pirate's Booty sells for around $2-$3 a bag.  Wal-Greens does a 2 for $5 deal.  If you purchase them at the online store you get 12 four ounce bags for $24 bucks.
Talk About It
What People Are Saying Now