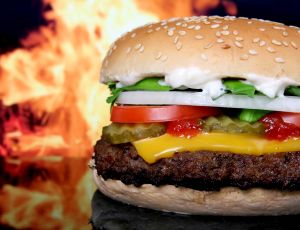 Summary: Spicy, zesty, meaty burgers that are sure to be a crowd pleaser.
Ingredients
1 pound ground Round or Chuck
1/2 cup Pappy's Seasoning
2 Tablespoons Crushed Red Pepper Flakes
1 Tablespoon Worcestershire Sauce
3 Tablespoons Barbecue Sauce
Sliced Smoked Bacon Cheddar Cheese
Instructions
Mix all the ingredients together in a bowl.
Make patties to the size of your liking
Grill burgers.
Place slices of cheese on hamburgers for the last 5 minutes of grilling time.
Quick Notes
Top burger with bacon, lettuce, pickle and onion for optimum flavor.
Cooking time (duration): 30 minutes
Number of servings (yield): 4
Meal type: dinner
Culinary tradition: USA (General)
Talk About It
What People Are Saying Now