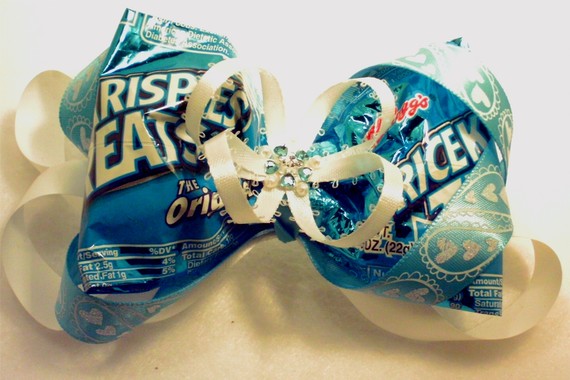 I've been sitting on these Rice Krispies wrappers since the summer.  I couldn't help myself.  The blue is so shiny and pretty.  I knew they'd make really cool bows so I made one.
I used 4 Rice Krispies wrappers so that the bow would be strong and durable enough for a child to own.  This bow can take being crushed in the bottom of a backpack, stuffed in a drawer or smooshed under the bed.  Plus it's pretty.
To dress up  the bow I added some white loopy loops and pretty flower centerpiece.  You can find this bow and some of my other bows at my Etsy shop by clicking HERE.
Talk About It
What People Are Saying Now