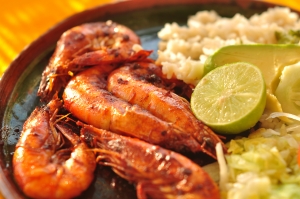 I'm an extremely picky eater.  Not very long ago I wouldn't eat 99% of the food on this blog.  I have more than just a few issues with food.  For instance, brown gravy does not belong on mashed potatoes and corn does not belong on a plate with gravy and mashed potatoes.  Eggs can't mix with gravy and biscuits but potatoes with gravy and biscuits is fine.  I eat boiled eggs but not the thick ends of the egg white.  And food can NOT touch.  I prefer separate plates for everything.  Strange I know but it brings me to my point.  There are some foods I absolutely hate.    Just to name a few…
Peanut butter – This is the most vile, disgusting, gross and putrid food on the planet.  Don't ever attempt to open a jar of this crap when I'm in the room if you want to keep your fingers.   Utter the words  peanut butter and I take it personally.  It's awful.  Peanut butter is so horrible there is not even a word with which to accurately describe it's horribleness.   And here I am thinking of peanut butter – I need to go barf now.  yeck!!!
Goulash – WTF?! Who the hell came up with this idea?  What the was wrong with you?  Like tomatoes much?  Ew.
Gooseberry pie – I'm speechless.  Really?
Ribs – Most people think I'm either unamerican or weird because I don't like ribs.  I don't like the dark meat of chicken either.  So there!
Fish – of any kind.  I don't care where it comes from or what type of water it swam in.  If it needs water to breathe I don't eat it.  It's not complicated.
Salsa in the jar – That shit is ketchup with chunks.  Please stop eating that garbage.   I've got 2 very simple fresh salsa recipes right on this site.   Pico De Gallo and Pita Chips and Spicy Bok Choy Salsa and if you like it super hot there's my Homemade Salsa Recipe.
There's a whole lot of other recipes and foods I could list here but I'm sure you haveother posts to read.  Feel free to complain about food you hate so I don't have to be alone in my food issues.  lol.
Oh –  yes I do know that's not how you spell cuisine.
Talk About It
What People Are Saying Now