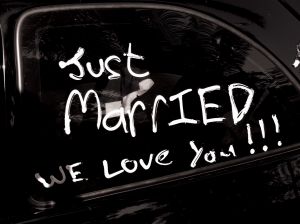 I'm married to a man that is 15 years older than me and to some that isn't much of an age difference, while to others it is just downright gross.  I've dated a few guys my age but even as a teenager I found more companionship with those older than myself.  I've been asked if I was looking for a father figure and I've been asked why I would marry a man so much older.  Here's why I would almost always choose an older man over a younger man.
Pros of Marrying an Older Man
He's settled – Not all, but most, older men are already settled in life.  They know what they want in their future and they know where they are going.  They have already mapped out where they want to be in life and how they want be in this world.   He's got his own routine that he's been living by for 20 years.  It's comforting to know that routine mean stability.
He's not likely to play mind games – Young men tend to want to be players.  They want to load up their cell phones with girl's phone numbers and hook up at bars and parties.  They tell you they are out with the guys when really they are getting lap dances in the strip club.  Older men have lived life enough to know that it's best to just say, "I'm going to a strip club tonight" or "I don't want to be monogamous.  I'd like to play the field."
He's life educated – An older man has already experienced many hardships and joys in life.  He's been around the block and up the way so he's less likely to be taken for a ride.  He knows the best places to walk along the beach because he's been there.  He knows which cell phone company offers the best deal because he's been paying for one since they came out.  He has stories to tell and wisdom to share.  Life experience is a great thing to share with a partner and an older man has plenty of it.
He's experienced – Young men have had way less sex than older men. There's no way around this.  The older you are the more opportunities you've had for sex.  Older men have already taken the journey over, around and on a woman's body so they've learned what women like and don't mind learning something new.  Younger men tend to bumble about a bit and are less secure with what they do know about sex, which means they get all butt hurt when they don't know something about sex.   Young men act like they're great lovers, older men ARE great lovers.
He's less judgmental – A younger man might tell his partner she's getting fat because he doesn't have the life experience to know that looks fade and a relationship is built on many other things besides looks and sex.  An older man realizes the body changes; hell his own body has changed, and he will still find you sexy when he has to reach an inch lower to find your nipples.
He knows how to do laundry and knows it doesn't magically do itself – Older men aren't bothered by chores and the menial daily grind as much as younger men are.  Older men have had to take care of themselves longer than younger men so when it comes to things like laundry and dishes the older man gets right in there and helps you get it done.  A younger man thinks that's what mothers and wives were invented for.
He loves my intelligence – Older men love it when a woman can compete in a battle of wits.  They enjoy good conversation that is deeper than whose boyfriend was at the mall with that other girl.
He has (in most cases) learned some manners – Older men have already gone through that phase where they are rude assholes.  They've learned and been reminded of the manners their mother's have taught them.  Older generations relied more on manners so an older man in today's world uses them.
Cons of Marrying an Older Man
He forgets what century we live in – I have to constantly remind my older husband that we are not living in the 1950's anymore.  Children can not safely roam the city, teenagers don't give a rat's ass about walking across our yard, gas is more than .25 cents a gallon and bread is more than .15 cents a loaf.  In his mind these things should have never changed so he balks at it.
His music and movies are old – I hate old movies and old music.  Maybe some other women like them but I don't.  When we drive in the car I have to listen to my MP3 player because my husband will listen to music where the men sound like they've been poked in the butt with a needle.  It's boring.   My husband also likes old movies with John Wayne in them or some other old actor which I know nothing about.  I fail to understand black and white movies when we have such vivid color in today's movies.
He's the creepy old guy at clubs – When you marry and older guy you are making a conscious choice to give up clubbing.  No older man wants to be that creepy old guy on the dance floor that all the young women and men are laughing at.  It isn't fair to ask your older man to be that creepy old guy.  The music isn't from his generation and neither are the dance moves.
He forgets you aren't one of the kids – My husband does this frequently.  He'll be lecturing the kids about all the wet towels on their bedroom floors and include me in the lecture like I'm one of the kids.  Sometimes when we have a discussion about finances or family he'll begin to take on that "I'm the father and you're the child tone" that makes me want to kill him.  No matter how old I get my husband will always forget I'm not some dumb, young, kid.  (shakes head in frustration)
He forgets I'm intelligent – Even though I said earlier that an older man loves my intelligence I didn't say he would remember that I am intelligent!  An older man will always remind you that BECAUSE he's older, he has the answer to whatever dilemma or question you have.   They remember the first televisions and party lines and because I remember things like MTV and Guns –n- Roses I don't really know anything.  I'll be 60 and he'll still think I don't know anything and that he must know it FOR me.
It's funny how life works out.  I'm often asked if the age difference between my husband and I ever bother me and i can truthfully say it doesn't…most of the time.  Then there are the moments he walks in the room and turns down the volume to an epic song like Pour Some Sugar on me by Def Leppard.
Talk About It
What People Are Saying Now