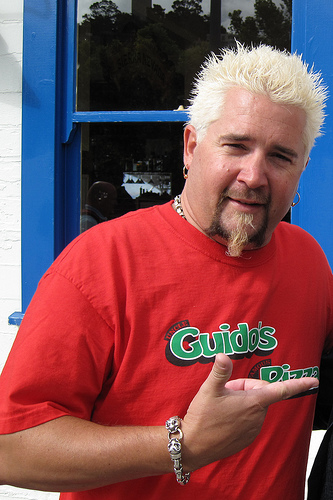 Diners, Drive-ins and Dives is one of my favorite cooking shows.  Guy Fieri screams Santa Cruz to me and being a fan of Santa Cruz I figured Guy's opinion would be worth listening to – when it comes to food anyway.  I've tried several of Guy's recipes at home and these are my three favorite.
Baked Potato Salad is my 2nd favorite way to eat potatoes.  The first is steaming hot, creamy, buttery mashed potatoes but if I didn't have that I'd have this.  I was surprised by the frying of the potatoes in bacon fat but the taste was amazing.  You really owe it to yourself to taste such goodness!  Check out Guy's Big Bite recipe Baked Potato Salad.
Should you decide to serve a romantic candlelit dinner at home – you know, lasagna and garlic bread – and find yourself in need of a recipe and a dress then you should check out my Trash Bag Dress and Guy's Garlic Bread recipe.  The dress is perfect for a messy dinner, plus it's cute and the garlic bread is heavenly.  Who knew mayonnaise went in garlic bread?
My 3rd favorite recipe from Guy Fieri would be his fantastically awesome Killer Inside Out Burger with Worchester Tomato Ketchup.  I've made tacos with corned beef but never burgers with chorizo.  When I saw Guy make these I had to try them and he's right, they really do come from flavortown.
Truth be told I love most of Guy's recipes, except for sea food but I'm picky that way.  His recipes are simple to make and I've never had a problem finding ingredients locally.  You should check him out sometime on the Food Network and maybe even give one of his recipes a try.
Talk About It
What People Are Saying Now