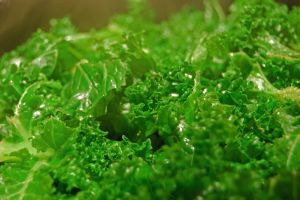 Kale is a bit strange but it is really really good. It's a tad bit bitter and reminds me of spinach.    Kale is loaded with nutrients and vitamins including vitamin B, iron, vitamin C and an astonishing 192% of your vitamin A needs.  One of the ways I like to add some zip to my Kale is by adding bacon.  You know the saying, "everything tastes better with bacon," and it's true.  Would I lie to you?  Check out my Kale and Bacon recipe. Yum!
Recipe: Kale and Bacon Stirred up Mish-Mash
Summary: One very healthy and tasty way to prepare Kale.
Ingredients
2 bunches of Kale chopped
1 pound bacon
2 cups chicken stock
3 cloves garlic, minced or finely chopped
1/2 white onion minced
salt
pepper
1/2 tsp lemon pepper
1/2 lime
olive oil
Instructions
Heat roughly 2 tablespoons of olive oil in a pan. (I don't usually measure this. I eyeball it so just be sure not to use too much as this is only for sauteeing purposes.)
Once the oil begins to ripple or put off steam add onion and cook on low heat until they start to sweat down. You can tell they've sauteed long enough when they turn translucent.
Add garlic to onions and sautee for about 5 minutes.
Set garlic and onions aside in a bowl.
Fry bacon.
Pour off bacon grease but leave about a tablespoon or so of the grease.
Set the bacon aside.
Add the kale to the bacon grease and sautee for 3-4 minutes.
Add chicken stock and simmer until stock has been absorbed.
Loosely squeeze lime into kale. Don't try to squeeze the lime dry, just give it one good squeeze.
Add sauteed onions and garlic.
Add salt and pepper to taste
add lemon pepper
Pour kale into a bowl, crumble bacon and add to kale.
toss loosely and serve.
Quick Notes
Don't get heavy handed with the lemon pepper. I use 2 bunches of Kale to feed my family because like cabbage and spinach, it shrinks way down.
Cooking time (duration): 30
Number of servings (yield): 4
Meal type: dinner
Culinary tradition: USA (General)
My rating: 4 stars:  ★★★★☆ 1 review(s)
Recipe by on.
Microformatting by hRecipe.
Talk About It
What People Are Saying Now