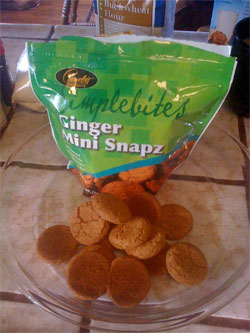 These are delicious.  What a find.  I couldn't believe that I would find gluten free ginger snaps that would taste as good as these.
Pamela's Simplebites Ginger Mini Snapz are a little on the pricey side considering the bag is fairly small but one bite and you'll realize you don't need to eat very many of these cookies to be satisfied.
A single serving, (which is 4) of these mini ginger snapz is 115 calories. I find it pretty hard to eat 4 at one time so the calories are pretty minimal.
Although Pamela's Ginger Mini Snapz are gluten free they are not sugar free or dairy free so the diabetic and dairy allergic will want to avoid these cookies.
The ingregients for these tasty snacks are as follows:
Rice Flour Base (Brown Rice Flour, White Rice Flour, Tapioca Starch, Sweet Rice Flour, Xanthan Gum); Molasses; Brown Sugar; Organic Natural Evaporated Cane Sugar; Non-hydrogenated Palm Oil; Eggs; Ginger Spice; Gluten-free Vanilla Flavor; Cinnamon; Baking Soda; Sea Salt; Cloves.
Pamela's Ginger Mini Snapz 7 oz bags can be found at Raley's, for $3.69,  Vitacost.com for $2.45  and you can even find them in bulk on eBay.  Right now you can get 6 bags for $17.50 on ebay with free shipping.
Talk About It
What People Are Saying Now