Is your office full of clutter, your desk stacked with bills and every conceivable empty space littered with notes, memos and receipts?  Then what you need is a message board to pin all that stuff to.  Rather than shove all those things into a drawer or sort into bins make yourself a message board, pin it up and forget about it until you need to retreive it.  Here's a simple way to make your own message board in just 20 minutes.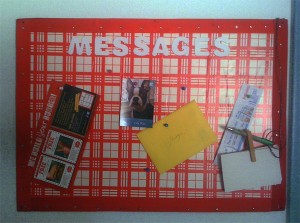 Message Board Tutorial
Supplies Needed
1 piece of foamboard (size is of your chosing)
wrapping paper
Mod Podge or craft glue
Ribbon
Rhinestones with pokey backing (not flatbacks)
hot glue
Cardboard Letters
Instructions
Cut a piece of wrapping paper the same size as your foamboard.
Coat one side of your foamboard with Mod Podge or craft glue.
Smooth wrapping paper onto coated foamboard. Press out any airbubbles with a towel or squeegee. Wrapping a towel around a rolling pin works too.
Hot glue ribbon around the edges of your board.
Hot glue cardboard letters onto board.
Press rhinestones into the ribbon and foamboard with your fingers.
Hang
Variations
If you have rhinestones on hand that are flatbacks you can still use them; it just takes longer to glue them on.
I used rhinestones made for the Bedazzler because you literally just push them in like a thumbtack.
If you don't have cardboard letters you can paint on letters, cut letters out of decorative paper or not have letters at all. Embellish your board however you like with whatever embellishments you have.
One quick tip is to hot glue a thumbtack to the back of a clothespin so that you can keep blank notecards or pieces of paper on hand to take messages.
I also put an ink pen on ribbon cording so that we aren't having to hunt for something to write with.
Homemade flour and water glue mixture also works as an adhesive for this project.
Preparation time: 20 minute(s)
My rating 5 stars:  ★★★★★ 1 review(s)
Talk About It
What People Are Saying Now