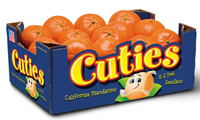 I don't like oranges but I love Cuties!  So, not only are they the topic of  "C" for the A-Z Blogging Challenge, they are also my Snack of the Day tip.  I take them to work and eat them on my break.  I eat 4 of them at night before I go to bed. I could sit and snack on Cuties all day long.  They're quite addicting.
They don't taste  like an orange at all and one of my friends thought they might be some sort of tangerine hybrid.  Intrestingly enough the Cuties website said they are actually a cross between two types of Mandarins.
Cuties are a little sweeter than a normal orange and they're seedless.  The skin is softer and easier to peel than an orange.  Which is one of the reasons I like them.  I hate peeling oranges.
The only drawback to cuties is that they don't seem to be as juicy as I would like.  Still I"m not complaining, Cuties rock!
No Cuties were harmed in the making of this post.  This post is part of the A-Z Blogging Challenge.
Talk About It
What People Are Saying Now