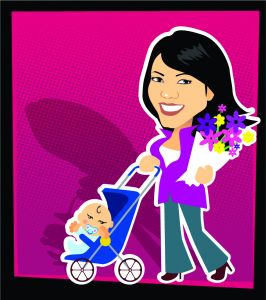 This is my first ever Blog Carnival for moms so I'm excited to be sharing these links with you.  Moms know the best tips for being a caretaker and the moms that shared the following posts have some great insight.  I hope you enjoy this edition of the Suburban Wife Life blog carnival.
I do apologize for getting this posted so late in the day.  I came home from my day job with an extreme migraine so forgive my tardiness.
Kim Black who posted the first ever submission to SWL gave us a look at the First Day back at First Presbyterian CDC! It looks like everybody had a fun and exciting first day of school.
Autumn Beck posted What's your cloth diaper simplicity? saying, "It seems that this question has a rotating answer. It's almost seasonal. Winter: fitteds and wool. Spring: pockets. Summer: all-in-ones. Fall: prefolds and wool. Those are just an example but it may be more true than I thought. Right now it's most important for me to have simplicity. That can mean many types for me but making it simple enough for my husband and 7yo daughter is vital."
I never used cloth diapers myself but her blog is so full of information that if I had another baby I would be tempted to give it a try.  If you are a cloth diaper mom then you don't want to miss this post!
I love the photo that accompanies Barbara Long's post Some Thoughts on Potty Training.  What a cutie that little potty training student is!  She has some interesting insight into potty training young children who are about ready to enter the school scene.  I know that when my youngest daughter, who had kidney problems, started school potty training was a big issue that eventually held her back.  This is an important read for potty training moms.
You won't find me arguing with Emma about Defending your parenting choices. I think she's right.  Who is anyone to say anything about anyone else's parenting choices.
OCMomActivities gives us a cute story about her son at his first sports event in her Bring on the Crowds, it's Basketball time! Post.   It reminded me of when my own son started football for the first time.  I find myself smiling at just the thought.
That concludes this edition. Submit your blog article to the next edition of suburban wife life blog carnival roundup using our carnival submission form. Past posts and future hosts can be found on our blog carnival index page.
A special thanks to yoshiaka for the use of her image.
Talk About It
What People Are Saying Now