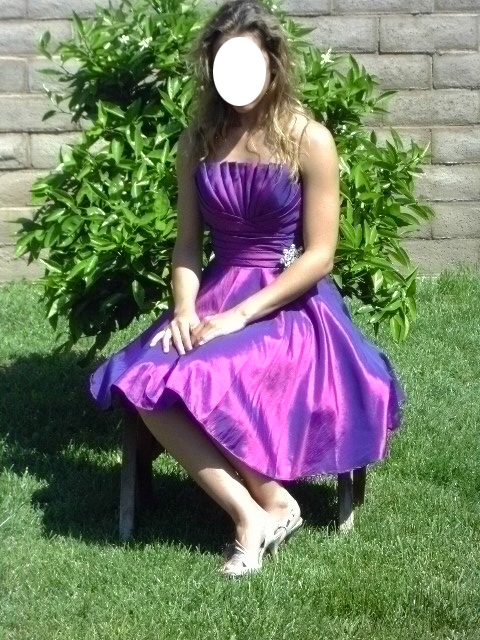 I have prom dresses for sale for cheap.  I have purple, white, hot pink, and 2 different shades of blue.  These dresses have been worn once and are suitable for prom, graduation, various school dances, parties, quinceaneras etc.   I bought 4 of these dresses for my youngest daughter and made one of them.    She's getting ready to leave for college in a couple of months so we are tying to raise funds for some of her expenses and we figured selling her old dresses would be a good way to bring in a few dollars.
All of these dresses are a size small or a size 2.   My daughter's measurements are 25 – 27- 27 so while the upper portion of the dresses were always a tad bit large on her, the bottom fit perfectly so if you are larger on top or have boobs then you may have to have alterations done.
My lighting wasn't great when I took these photos and I'm not a good photographer but the pictures are pretty accurate colorwise. The purple dress is  dark and iridescent that it appears to change color as you move.
The light blue dress was for a different reason; I made it for my daughter's 8th grade graduation.  she's 18 and as you can see in the photos she can still fit into it.  That tells you she is tiny so please take that into consideration when you look at that dress.  The flowers along the top of the front and the small bow on the front are pink while the large bow and the mid-center section are white satin. The white bow has clips so that it clips to the dress, it can be worn with or without the bow and it comes with a small shoulder jacket.  the reason I made the jacket was because the school my daughter went to at the time would not allow a dress with straps; they had to have some sort of cap shoulder or sleeve.
If you're interested in one of these dresses please leave me a message and I'll email you with shipping and payment information.
I am asking $40 for each dress plus the cost of shipping.
Here are the dresses
Talk About It
What People Are Saying Now