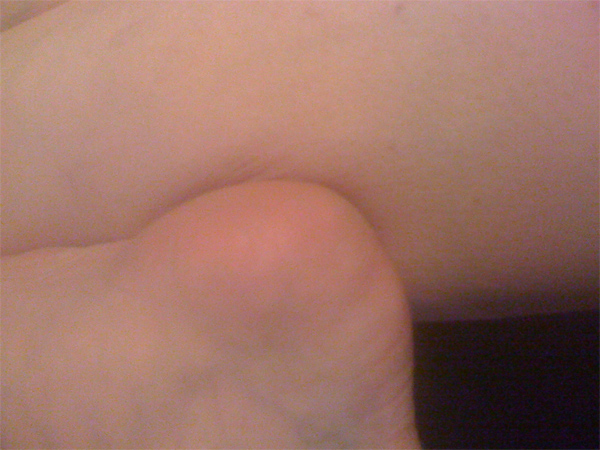 The Listerine & shaving cream recipe has been all over the internet lately.  I belong to pinterest and I've seen it pinned over and over again.  I too pinned it with the intention of giving it at try as soon as I got some Listerine and shaving cream.  I had some generic Target brand mouthwash in the cupboard but I figured if I was going to try out a recipe I should at least do it justice and use the name brand stuff.  Sometimes that makes a difference.
I have scaly feet.  They get dry and they crack like the desert in the height of summer.   I have my regular ritual for dealing with it but I'll be the first to admit it gets tiresome to put in all that effort 365 days a year so come winter I tend to slap some moisturizer on my lizard-lady skin and cover it up with socks.  I have tried a lot of different things to combat dry feet, things that include Saran Wrap and coffee grounds among things.  But what I've found that works consistently is simply soap, water and a good pumice stone.    That doesn't mean I have given up the hope of ever finding a cure for dried, cracked heels so I'm always up for a good home remedy.
The weather has gotten warm and I'm ready for flip flips but my feet aren't.  My feet are so cracked they're cavernous.  I figured this would be a good time to give the listerine & shaving cream recipe a try so I ran to the store and bought mouthwash and shaving cream.  I would have taken pictures of my feet before I started but I got so excited to try this remedy that I forgot until my feet were already stuffed into ziplock baggies.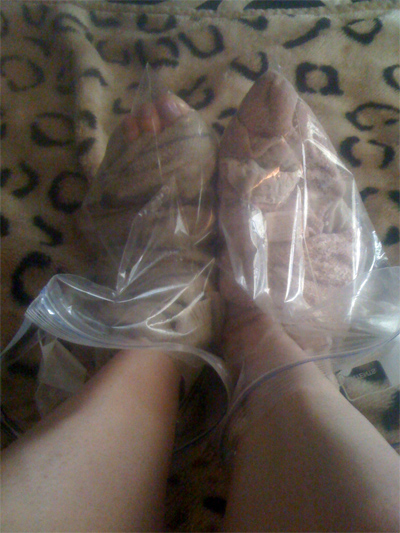 Yes my toenails are purple.  It's time for a change.  I decided if I was going to lay around for 30 minutes with my feet stuffed in bags I'd get all comfy in bed and watch some tv so that's what I did for 30 minutes.  You could read a book, peruse my blog for other silly things to try or whatever but I recommend that you keep your feet at an angle so that the Listerine will soak the bottoms of your feet.
When the 30 minute timer went off I jump up and hobbled down the hallway to the bathroom where I had a fresh towel and washcloth waiting for me.  I unveiled my feet and I guess I wanted to believe in this remedy so bad I thought that my feet would be beautiful like removing mummy wrappings and finding a beautiful young woman underneath, like old movies.  It didn't happen.  I hate to say it but this is one busted home remedy.  Not only were my feet every bit as cracked as they were when I started but scrubbing them did not make the dead skin fall off.  Here's what my feet looked like immediately out of the Listerine.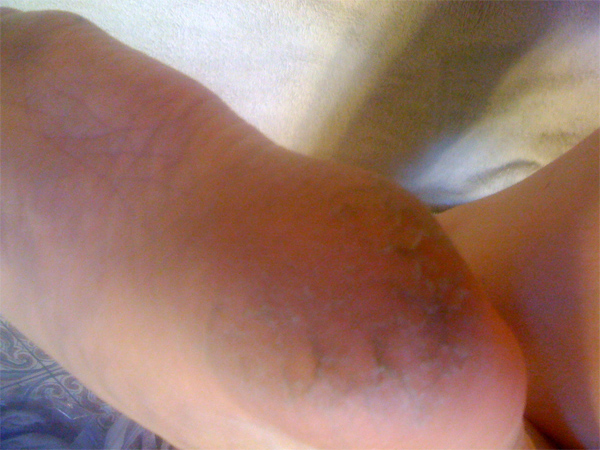 So in the end would I take the time or effort to give this remedy a go again?  Absolutely not.  While my feet smelled minty fresh (which is a plus if you are spending your life with someone who likes to put your feet in their mouth) unless I had a specific fungus or my feet smelled really really bad I wouldn't bother with this remedy.    My feet feel exactly the same way after a nice, long, hot soak in the tub.
once my feet were dry I gave it a good go with a pumice stone made for feet and applied a bit of lotion.  It's probably going to take at least 2 more treatments to get my feet looking the way I want them to for the summer but for now, here's my tootsies after Listerine, shaving cream and a good pumice stone.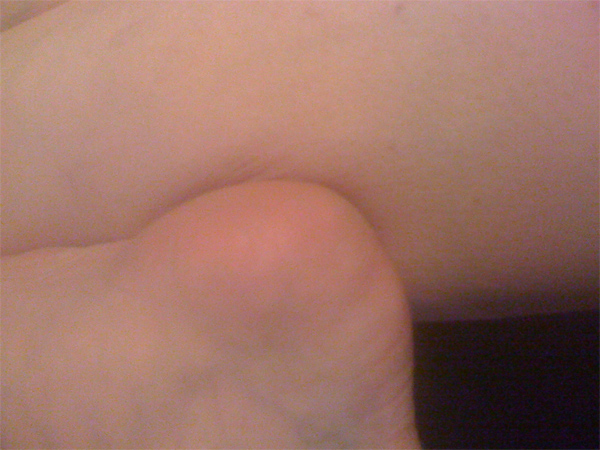 Talk About It
What People Are Saying Now