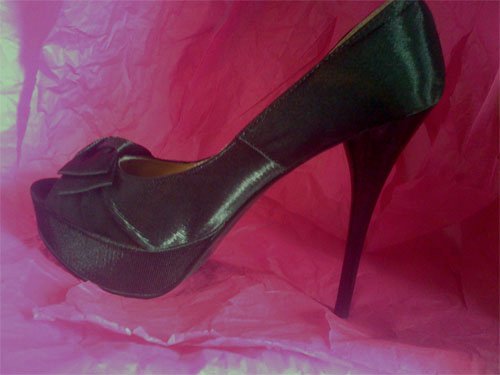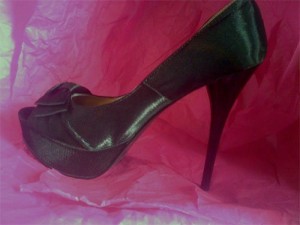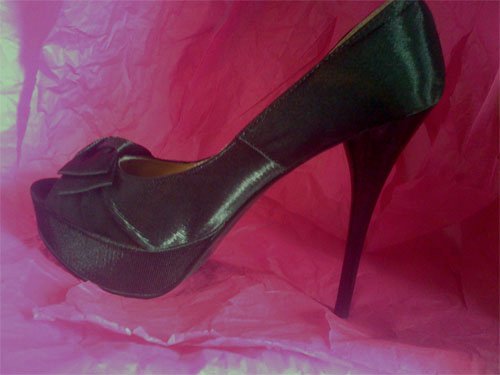 I can see the ad.  In my head I hear the tinkling of an old time piano and in my distant peripheral vision there's a shiny white staircase.  Black and white marble tiles tick into place.  I think angels sing.  And then, a rolled tube of paper appears and on it a job ad that reads…
Full Time Shoe Tester Needed.  Must be able to wear shoes on a daily basis.  Job involves striding in quick bursts, tip-toeing lightly from time to time, dilly-dallying along every once in a while and even full out running from time to time.  Applicant is required to test shoes provided free of charge at any and all the time.
And then the ad in my head cuts away quickly to a shot of my legs kicked up in the air, waving my shoe-clad feet back and forth in small quick steps.  Flash forward again and this time I'm standing there, hand on my hip in my black pencil skirt and sky-high Valentino stilettos.  A wicked, wicked grin on my face.  I'm a chick that knows I'm wearing Valentinos.
Or something along those lines; I don't know.  All I do know is that there has to be somebody(ies) that are testing out shoes for shoe designers.  I just want to know how one goes about getting that job.  Do you look up designers in the phone book, give them a call and ask "Hey, can I wear your shoes?" Why don't they tell you there's a job that lets you wear shoes for a living  on career day in High School?  It doesn't seem fair.
Last night I was on Pinterest and I typed shoes into the search box.  The results were exciting.  It got lots of oohs and aahs from me.  I decided to kick it up a notch so I typed high heels into the search box.  If you have not done that then go do it.  Now.  Do it right now and then come back and read the rest of this so you'll know what I'm talking about.  Anyhow, back to searching for high heels….When I saw what came up  I died, crossed the river and journeyed forth to shoe heaven.   Oh the shoes!  The glorious shoes I saw there.  At some point I had to close the lid to my laptop and just stop looking.   That was when I started wondering whose feet were inside the shoes in the photos and how many of those girls got to keep the shoes they modeled; and that got me to thinking about the people that test out stuff to see if it works.  Like magnets, underwear elastic, thumbtacks and shoes.  .  Someone to actually wear the shoes and try them out for a while before everyone else does and discovers what works and what doesn't work in a shoe.  Am I mistaken in believing that shoe designers care about the function of shoe as well as the artistic beauty in the design?  I hope not.   Being a shoe tester is in my destiny.
Talk About It
What People Are Saying Now