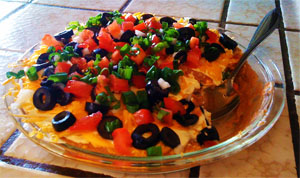 Frito Lay makes awesome bean dip but my recipe is even better because on top of the  beans is more flavorful goodness than just beans.  My Frito Lay like beans are creamy, zesty and can be made for vegans and vegetarians alike.
The secret to making bean dip creamy is in the milk.  Some have been known to add a little melted lard and that's okay but milk adds a touch of sweetness and helps the beans stay creamy so chips don't break during dipping.
Recipe: Frito Lay like Layered Bean Dip
Ingredients
1 30 oz can of refried beans (vegans and vegetarians will want to boil their own pinto beans)
1/8 cup milk
1 Tsp ground cumin
1/2 Tsp ground cayene pepper
1/2 Tsp crushed red pepper flakes
1/2 Tsp garlic powder
1/4 Tsp onion powder
1/2 Tsp sugar

Toppings

Sour Cream
Shredded cheddar cheese
Diced tomatoes
Diced white and purple Onions (half and half)
Chopped green onions
Sliced black olives
Sliced Jalepenos (optional)

***Vegans and Vegetarians can substitute sour cream with Tofutti sour cream,  cheddar cheese with Teese cheese or Cheddareese and milk with soy milk .
Instructions
Mix all bean dip ingredients together in a bowl until smooth and creamy.
If you are making your own pinto beans then you'll need to mash them before adding the other ingredients.
Spread bean dip in a pie pan or container of choice.
Spread sour cream on top of bean dip so that the beans are completely covered.
Top with shredded cheddar cheese.
Lastly, add onions, tomatoes and black olives.
Only add Jalepeno's if you like it HOT.
Dip with Frito Lay's Corn Chips.
Cooking time (duration): 10
Diet (other): High protein
Number of servings (yield): 6
Meal type: snack
Culinary tradition: USA (General)
Recipe by on.
Microformatting by hRecipe.
Talk About It
What People Are Saying Now