I am throwing a rave!  Who knew?  The rave I'm throwing isn't for adults, it's for my teen daughter's birthday party.  After spending alot of time searching the net for good birthday party invitations suitable for a rave I realized the only way to get really good ones was to design them myself.  I love them so much I'm offering them up for free.
The invitations are laid out so that 8 invites will print on one page.  They are designed in adobe photoshop so I have kept them as PSD files.  When you download the PSD files simply change the name layers to your own child's name.  You can add your own layers and type in the date, time, place and RSVP # or use a black sharpie to write in the info.
These invitations were designed to be double sided which is why there are 2 seperate files to download.    If you only want one side then download the ticket front file.
After I printed the invites I laminated them with clear adhesive laminating sheets found at Staples, punched a hole in the top and tied ribbon through the hole so the kids can wear them around their neck.  The concept was for them to be "backstage passes."
I hope you enjoy these.
This is what the invitations look like: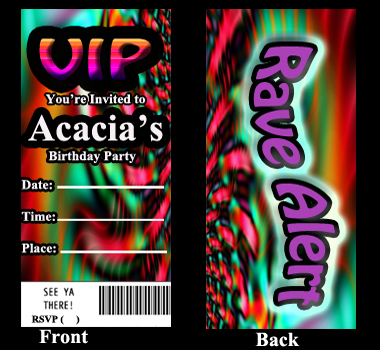 …..
Talk About It
What People Are Saying Now