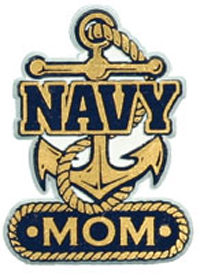 I'm a Navy Mom.  My only son went off to server his country as a Sailor in the United States Navy.  I know that he misses home and things from home so I try to send him care packages that I know he will enjoy and that I can be assured will be money well spent.  Here are a few different care package ideas I have either had, used or plan to use someday.
Snacks, Snacks and More Snacks – I once filled a flat rate postage box with cheap snacks and greasy junk food.  I sent him a box full of Slim Jims, Oreo Cookies, Corn Nuts, Travel Pringles, Rice Krispy Treats,  Easy Mac and squeeze cheese.   I pity the fool that had to be around when that gas bubble burst.
I never send chocolate or food that melts.  I don't want to waste my money and I don't want my son to be disappointed when he opens the box.
Try turning it into a themed care package like movie night with popcorn, licorice and milk duds or Mexican Fiesta with corn chips, bean dip, canned salsa and nacho cheese in the can.  Don't forget to include a can opener and some napkins or wet wipes.
Travel Games – Things like card games, handheld electronic games, travel bingo, connect four, crossword puzzles, soduko and checker games are small enough that they can be stored and transported in one small box which is important to Military personnel because they never know when they will have to pack up all their belongings and relocate to a temporary location.
The Necessities – This is a no brainer.  I don't care who you are, receiving a box of necessities is a nice financial relief.  Send things like deodorant, soap, toothpaste, shoe polish, razors etc.   This is an especially nice care package to send if your loved one has been deployed and has a hard time getting basic supplies.
Gift Cards – Instead of sending  things that you chose to buy, send a whole bunch of gift cards and gift certificates. Make all the cards or certificates low in price so that they are all a one time deal for example, send a gift card for a free hamburger at a fast food joint, a certificate for a free movie, a gift card for 10 songs on iTunes, a $5 Starbucks card or even just a $10 prepaid Visa.
Dinner in a Jar – Chili is an amazing dinner item that you can easily pack in a box.  Simply pack it in a wide mouth canning jar and include a bag of Frito chips.    Other things that keep well in a canning jar are beef stew, homemade mac and cheese, chicken and dumplings and spaghetti.  Wrap the jars in bubble wrap and kitchen towels.  Fill up the unused space in the box with packing peanuts.
What kind of care packages have you sent to your military loved ones?
Talk About It
What People Are Saying Now