I've been sick for 3 weeks now and it has finally been determined that I don't have bacterial pneumonia.  What I really have is a fungal lung infection known as Valley Fever and Erythema Nodosum.  Both are exhausting and extremely painful.
The technical name for Valley Fever is Coccidioidomycosis.  While Valley Fever can be fatal, most are able to recover without the aid of medication.  In my particular case my Dr. felt it was necessary to treat it with an antifungal medication.
Symptoms of Valley Fever include: Shortness of Breath, Coughing, Weight loss, Night Sweats, Exhaustion and more.  You can find a full list of symptoms at the Valley Fever Survivor's site.
Along side Valley Fever I also came down with Erythema Nodosum which is the red, paiful rash that appears on the legs and arms.  The Valley Fever is a piece of cake, the Erythema Nodosum is incredibly painful.  It affects the joints so I have been unable to move my feet or put weight on my ankles.
If the pain that comes with Erythema Nodosum isn't enough the itching that accompanies it is enough to send one to the loony bin.   After nearly taking a cheese grater to my legs my DR. recommended taking benedryl capsules.  Those babies helped but made me pass out and feel drunk.
This is what the rash looks like (these photos are of my own legs):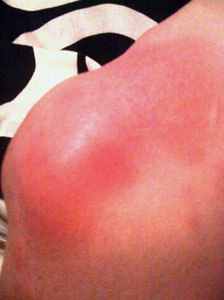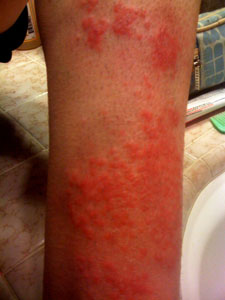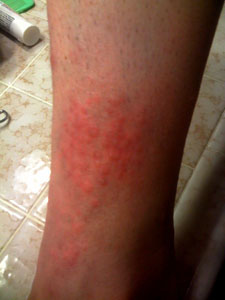 So, since I've been so ill and have very little energy I probably won't  get the site redesigned as soon as I originally wanted to and I won't be making as many posts as I'd like to.  I hope to have enough energy to return to this site on a daily basis soon.  In the meantime,  eat healthy, stay safe and be well.
Talk About It
What People Are Saying Now