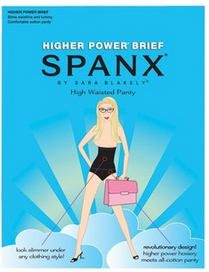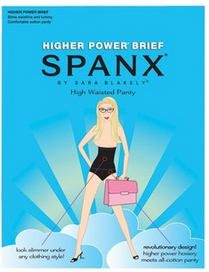 There was an ad on the side of my Facebook page a while back that caught my eye.  The ad featured slim and slender women wearing Spanx and they looked pretty damn good.  Being the grown ass woman I am, I understood that these were models and that they look like that with or without Spanx.  It's their job to look that way.  It wasn't enough to stop me from wanting to look like that too though.  Like countless generations of women before me I fell for it and bought a damn girdle aka Spanx High Power Brief.
Now, I am not a large woman.  I think I'm average although other women tell me I'm skinny.  But you know how a bitch can be….they tell you that but they don't really mean it so I'm not sure which is the case in my situation but I will say this; I'm 5'7" and I weigh 132 pounds.   I've given birth 3 times and I'm getting older so things are not as firm as they once were which is why I bought Spanx to begin with.  I just want to look lumpless in my clothes instead of lumpy.  I detest the one roll I do have.  It goes all the way around my stomach and when I sit down there it is.  Like the innertube from hell.  It keeps haunting me.
The first time I put on my Spanx I was like, "oh yeah.  This is niiice." I ran my hands up and down my sides feeling very slim and sleek.  Did I mention I was holding my breath?  Well, I was.  I was sucking everything in so tight it's a wonder I didn't turn inside out.  I let out my breath and was pleased when the innertube was still hidden.  They really did make me look leaner, but would it hold all day?  Could they stand up to my level of activity?
One of the things I find most girdles lack is endurance.  They might suck and tuck all my fat in at first but a few hours later the elasticity wears off and everything goes all mushy again.  Then all I've got is a girdle that makes me hot and itchy and I still look like a sack of potatoes.  I had high hopes for my Spanx and I have to say that they really did stay nice and tight….for about 8 wears.
I literally wore and washed them for about a week straight.  The fabric washed well and held up well.  Every time I wore them I felt like that stupid innertube had gone to Hell itself.  Spanx moved well, wasn't too hot, didn't get itchy and was generally speaking pretty damn comfortable.
I fell in love with the way they felt under my clothes with one exception.   And there's always going to be one exception because nothing is that fricking perfect.  They kept sliding down in the back when I bent over.  I used their size chart when I selected my size so they should fit.  The band had that non-slip grip and it did hold them up but every couple of hours I had to go to the ladies room and pull it up.
Okay, two exceptions.  In the first hour the tag on the back nearly drove me nuts, like batshit crazy nuts.  The placement was bad and the material it was made of was bad. Bad, bad, bad.  This is a product that should be tagless.  Print the branding on the material but don't put a tag on them.  "Nuff said.
Bottom line, I love them and I will be buying another pair but I think the next pair I buy will be a bodysuit style so that shoulder straps will hold them up.  Of the girdles I've tried (and believe me I have tried plenty) I would say Spanx is my favorite.  It's not binding and yet it binds you.  It won't make you look like you lost 30 pounds because let's be honest, the only thing that will make you look like you lost 30 pounds is if you lose 30 pounds but they will smooth out small lovehandles and give you a leaner appearance.    So I say, yay for Spanx
Talk About It
What People Are Saying Now