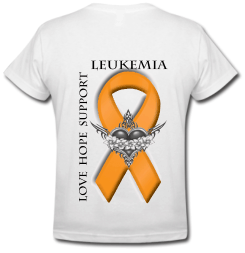 My friend has been diagnosed with Acute Lymphoblastic Leukemia.  Throughout the few years we have been friends and writers in cahoots she has been a good friend to me.  Good friend or not, distance makes it difficult to support her in her battle.  But there are things that I and others can do, even if it isn't a person to person hug or sitting with her as she goes through chemotherapy.
last week the Yahoo! Contributor Network group rallied to support her.  We have promoted her articles and pimped out her links.  We have shared her paypal email address and made donations.  Some people have donated their own pageview bonus's and another friend even setup a giveitfoward page.  Twin Trinity Media is donating $1 for every book sold as in a real book.  And .25 for every download.
Now we have t-shirts you can buy to help Rissa with the enormous medical bills that are only a small part of this battle.  100% of the profits from the shirts will go directly to her.
If you have a loved one fighting a battle with cancer check out these cool shirts.  I designed the images and Barefoot put together the words.  Together we've created some pretty awesome leukemia support t-shirts. There are a few different designs to choose from and we are in the process of making more.   If you would like to help me support my friend Rissa through these hard times please consider buying a t-shirt or at the very least click on one of the links below to read an article or two.  Each click pays and every cent helps.
How to Help Rissa
2.  Visit Rissa's Giveitforward page
3.  Read Rissa's Articles at Y! CN
4. Read Marie Anne's Articles at Y!CN (she's donating her pv bonus)
5. Purchase a book from Twin Trinity Media.
6. Donate through Lyn Lomasi's Paypal Donations for Rissa's Battle
Talk About It
What People Are Saying Now