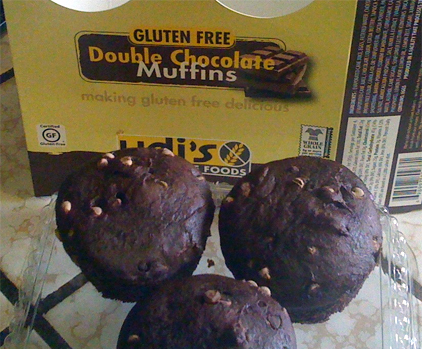 When I started going gluten free I thought my chocolate love affair was over.  I was mourning the absence of brownies, cake and cookies.  Then I stumbled across two great snacks that righted the universe once again; Pamela's Chunky Chocolate Chip Cookies and Udi's Double Chocolate Muffins.
Have you ever bought those ginormous muffins from Costco and eaten them frozen, or heated them into a molten mess of chocolate in the microwave?   Maybe you prefer Otis Spunkmeyer?  Either way, you chocolate muffin lovers out there know what I'm talking about.
Now imagine you can still eat frozen or melted chocolate chip muffins – GLUTEN FREE!  No, YOU shut up!  I speak the truth.  Udi's Double Chocolate Muffins are to die for and they're gluten free, soy free, nut free and dairy free.  Whoda thunk it possible?
Although this post falls under the Snack of the Day category I really wouldn't recommend you eat them every day because unless you survive on chocolate muffins alone or have a huge bank account you'll go broke trying to eat them everyday.  One container of 4 muffins costs around $6.  Ouch I know but so well worth it.  Just do like I do and hide them because once the gluten eaters in your house catch on to how good they are you won't have any left.
So here's the down low on Udi's Double Chocolate Muffins.
Servings per container – 4
Calories per serving – 350
Sugars – 32g
INGREDIENTS: EVAPORATED CANE JUICE, EGGS, FILTERED WATER, CHOCOLATE CHIPS (EVAPORATED CANE JUICE, CHOCOLATE LIQUOR, COCOA BUTTER), TAPIOCA STARCH, BROWN RICE FLOUR, CANOLA OIL OR SUNFLOWER OIL, COCOA POWDER, PALM SHORTENING, BAKING POWDER (SODIUM BICARBONATE, CORNSTARCH, CALCIUM SULFATE, MONOCALCIUM PHOSPHATE), SALT, VANILLA EXTRACT (VANILLA BEANS, WATER, ALCOHOL, CANE SUGAR), SUNFLOWER LECITHIN (CONTAINS TRICALCIUM PHOSPHATE), LEMON FLAVOR (LEMON OIL, LEMON ZEST, SUGAR), XANTHAN GUM. CONTAINS: EGGS
Talk About It
What People Are Saying Now