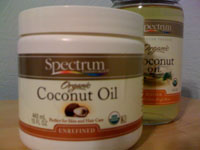 Ladies I have found the best all natural hair products for hair.  And I do have some hair, so much so that mine hangs to my tailbone.   There's 2 products I use to keep my hair healthy, shiny and strong.
My all time favorite is cocounut.  Coconut milk and coconut oil.  It has to be organic coconut though for it to be useful.  I purchase spectrum coconut oil and Raley's brand of organic coconut milk.    I soak my hair in coconut milk, braid it and sleep on it for added moisture, then I seal in that moisture by soaking my hair in coconut oil and leaving it in all night.
My other favorite all natural hair product is Yes to Carrots.  If you haven't tried this stuff I recommend you run – not walk- to Walgreens and get you some.  They have the most amazing hair mask, shampoo and conditioners.
Best of all both of these products are certified organic.
Talk About It
What People Are Saying Now